It's the time of year where schools nationwide are cleaning buildings and fueling buses in anticipation of another school year. While there may be a lot of focus on ensuring safety protocols are in place inside the school, It's also important to look at safety measures for school buses transporting students to and from school.
Parents and caregivers trust school bus drivers to take more than 22 million students safely from home to school and back each day. As the bus driver or school district entrusted with these children, are you doing everything possible to maximize safety, avoid accidents or emergencies? Here are three major factors to consider: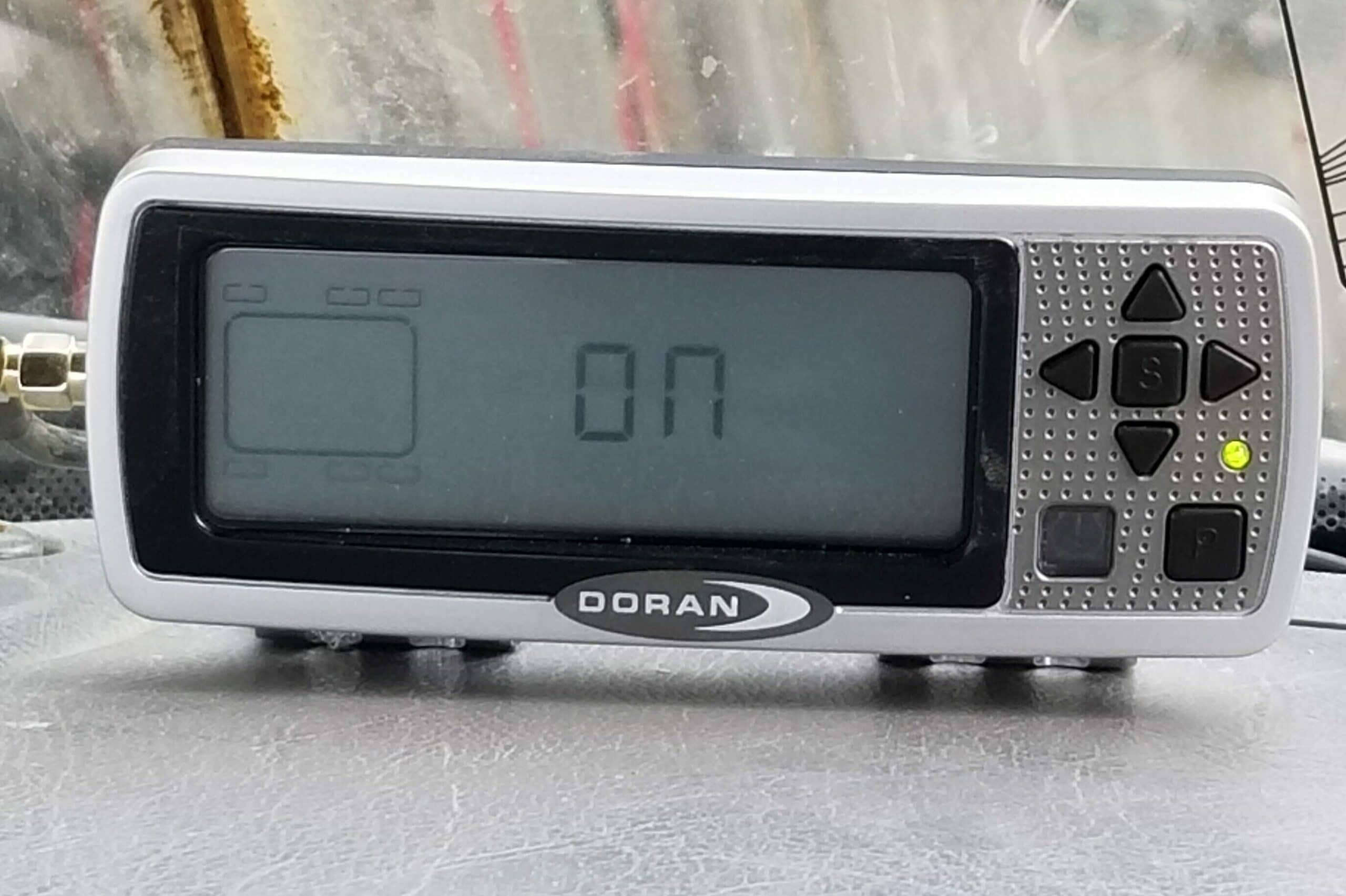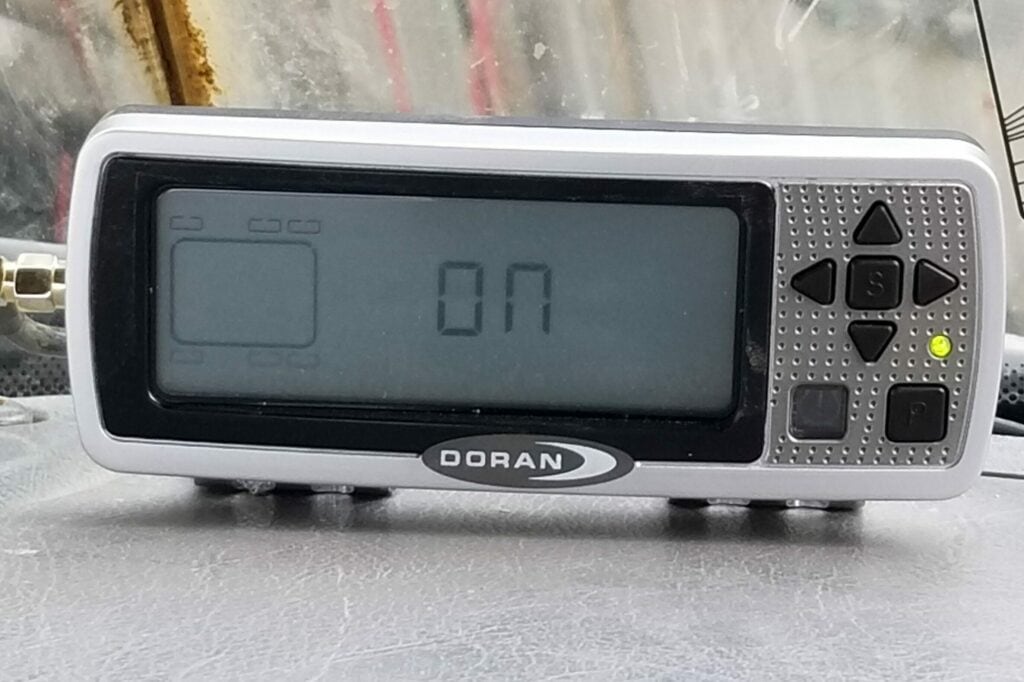 Proactive Maintenance
Considering potential situations, such as flat tires, should be part of any driver or bus owner's maintenance plan. Tire problems are one of the leading causes of school bus accidents. When they're improperly inflated, tires can blow out, causing the driver to lose control of the bus. That's why it's so important to have a School Bus Tire Pressure Monitoring System (TPMS) installed on all buses.
Doran 360™ TPMS , or tire pressure monitoring system, helps decrease the likelihood that a bus driver will get into an accident. As bus drivers are on the move, Doran 360™ TPMS continually monitors bus tires for indications of distress. The system will identify and alarm the driver of unsafe changes in the tires' inflation pressure and temperature.
A "Green Means Good™ " indicator light gives the driver accurate updates that only take a quick glance to process. The driver will also hear an audible alert immediately informing them of unsafe pressure and temperature conditions. That means they'll have plenty of time to pull onto the side of the road and ensure they are in a safe location. Doran 360™ TPMS also helps the driver drive more effectively and improves bus control even in challenging conditions or terrain. TPMS are so effective that it's estimated that they save up to 660 lives each year.
They also help prevent as many as 33,000 accident-related injuries. This is partly because worn and uneven tires are much more likely to blow out. Because Doran 360™ TPMS provides real-time tire pressure readings, they can help stave off premature wear. That keeps your tires in peak condition, so they perform how they're supposed to. In addition to supporting child and bus driver safety, Doran 360™ TPMS can lower insurance costs, prolong tire life and increase fuel efficiency.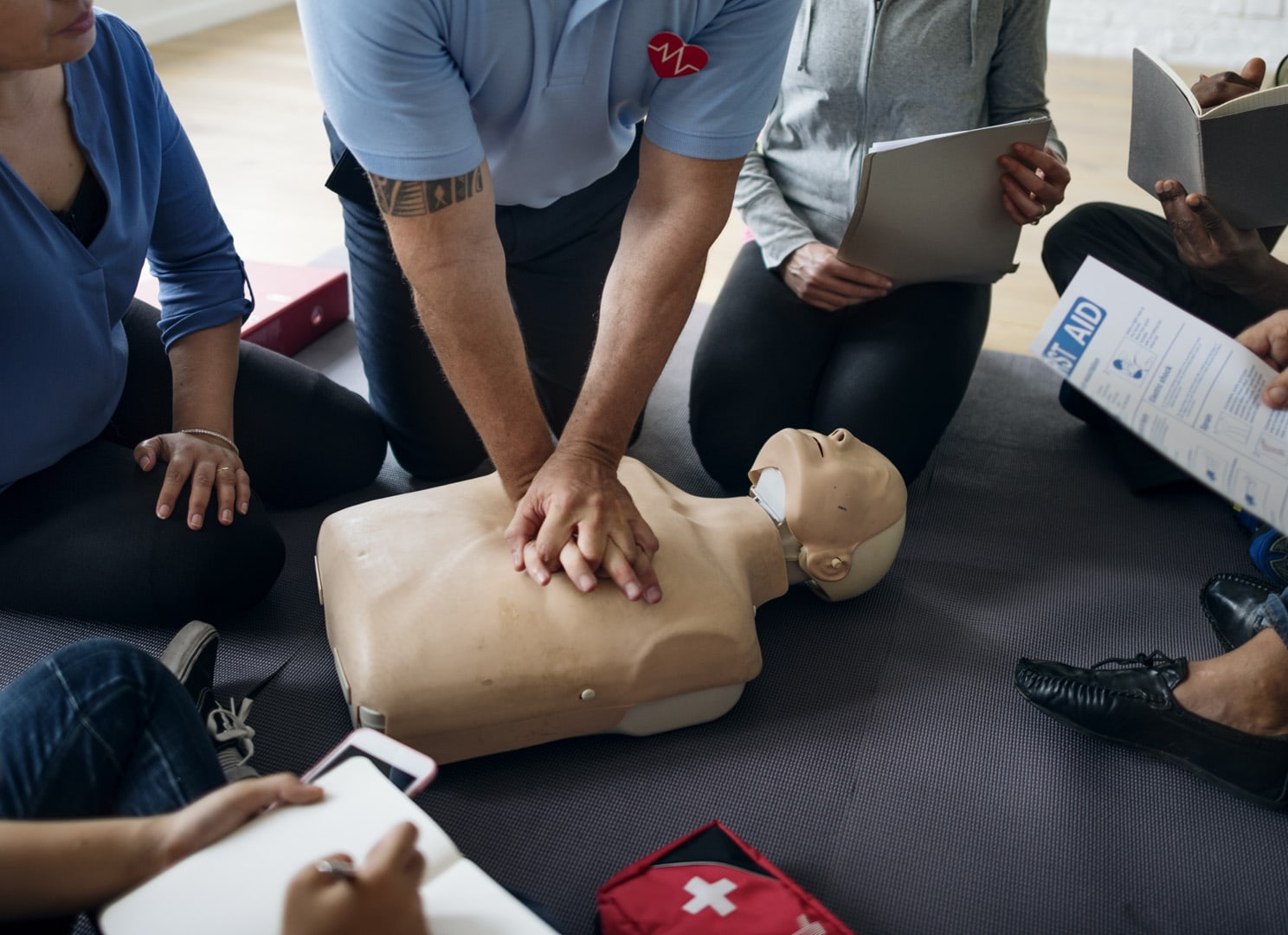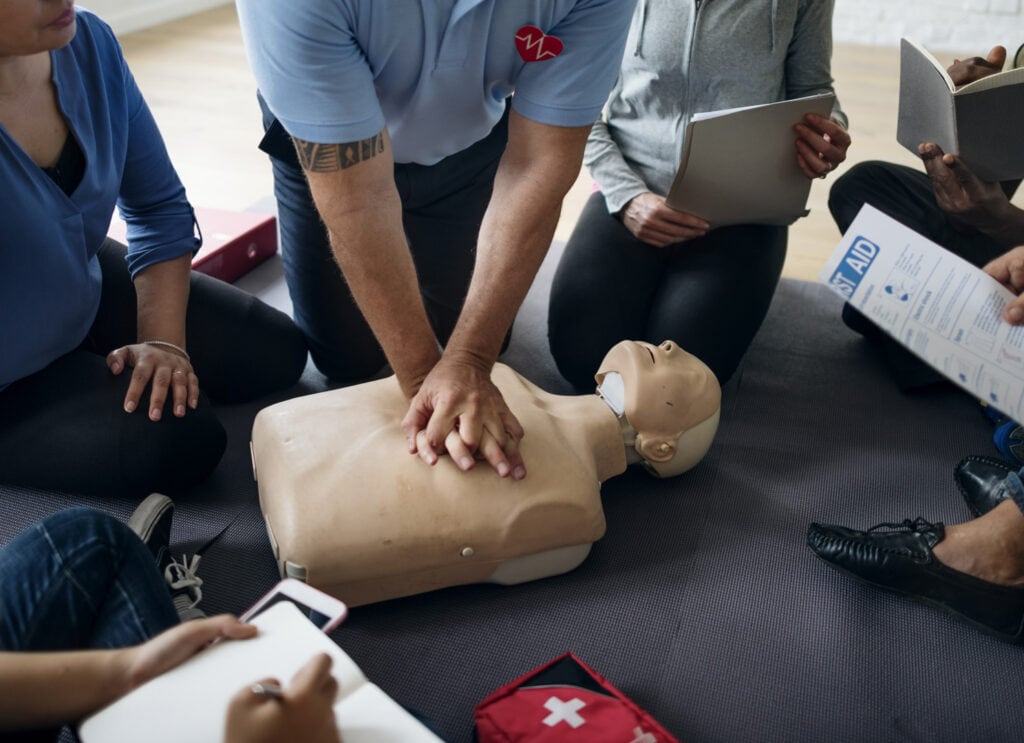 Training and Education
Bus drivers should not only meet the minimum standards to operate a school bus, they should be trained to interact with the students and maximize their safety. While not an exhaustive list, all drivers should be provided with continuing education on topics such as:
Local school policies
CPR, first aid and basic injury procedures
Managing student behavior
Driver loading and unloading procedures
Safe driving techniques
Your local school district and state department of education should have training procedures in place and can connect your bus drivers with approved training.
Install Safety Equipment & Technologies
Onboard safety equipment such GPS tracking, onboard cameras, exterior light monitoring systems and other technologies are becoming increasingly required by state and local school districts. These innovative solutions increase driver accountability and allow for remote monitoring and observation of bus activity.
Doran specializes in school bus safety equipment including:
Sleeping Child Check monitors
School Bus Tire Pressure Monitoring Systems
School Bus Exterior Light Monitors
LED lights
These products ensure that school buses are in good working condition and that bus drivers and surrounding motorists are able to operate in as safe a manner as possible.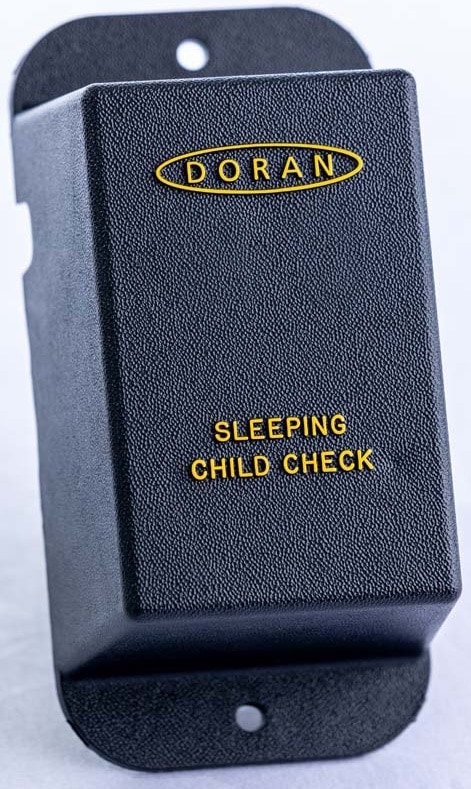 Sleeping Child Check Monitor®
Leaving a child on a bus is one of the scariest things that can happen to a child or bus driver. Doing so can result in severe injury or even death, especially in excessively hot or cold weather conditions.
Installing the Sleeping Child Check Monitor® can prevent such incidents. When the bus driver turns off the bus, an alarm sounds to remind the driver to walk to the back of the bus to check for sleeping children. To stop the alarm, the monitor (which is situated at the back of the bus) must be manually turned off by the driver. This means that the driver will have to walk from the front of the bus to the back, giving them the opportunity to check all of the seats. If the driver leaves the bus without deactivating the alarm, the horn will sound, and lights will flash to remind them to do so.
***This monitor fulfills State of Florida Law SB252 (Vehicle Alarm Bill), which requires drivers to have a system in place to prevent children from being left in vehicles.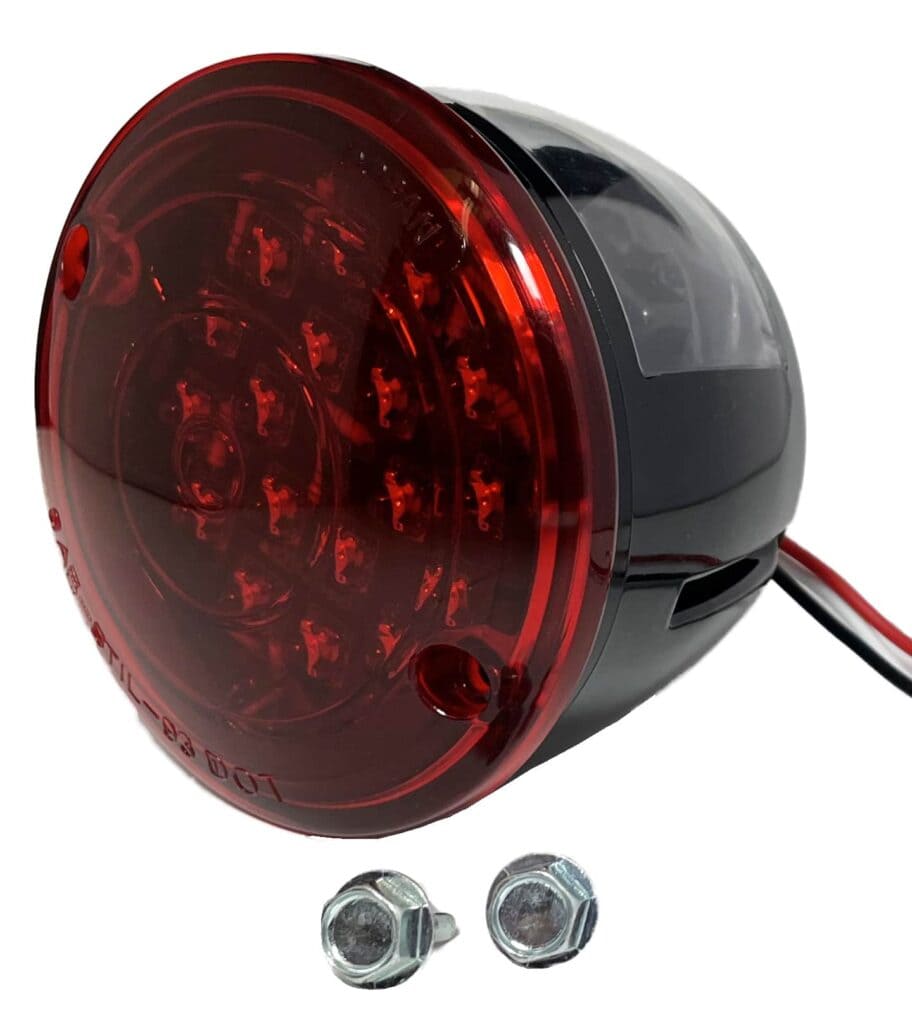 LED Lighting Systems
If your school buses are still using incandescent bulbs, consider switching to LED lighting systems as a brighter, safer alternative. The brighter your school bus's lights are, the easier it is for other drivers to see the bus - and the more likely they are to yield.
Doran offers quality LED transportation lights for buses that can be seen from up to a mile away, even in direct sunlight. They also consume much less power than incandescent bulbs and last considerably longer. That means they'll help you save money on replacement costs and maintenance.
From stop arm lights to rectangular marker lights, Doran Manufacturing has what bus owners need to outfit their school buses with industry-standard, safety-enhancing lights.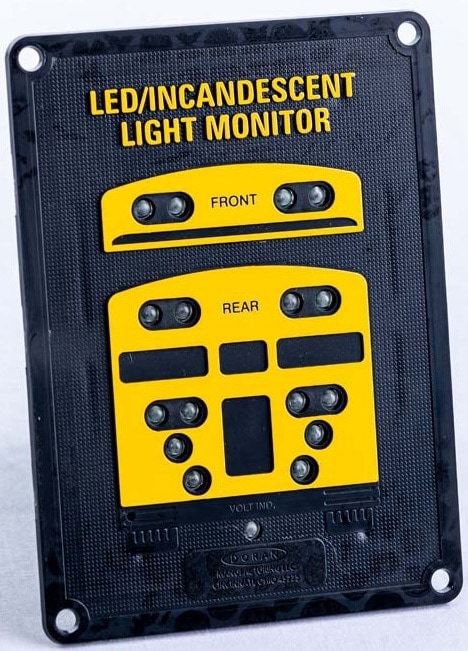 School Bus Exterior Light Monitors 
It's not enough to have working bus lights - those lights should be working properly at all times. Otherwise, the bus isn't as visible as it needs to be, increasing the chances of an accidental collision.
Doran's School Bus Exterior Light Monitors are designed to check whether all exterior lights are working correctly and immediately alert the driver to any failures. This ensures that your bus is visible to drivers, even in foggy, dark driving conditions. This system can work with any LED lights, incandescent lighting, or a combination of the two.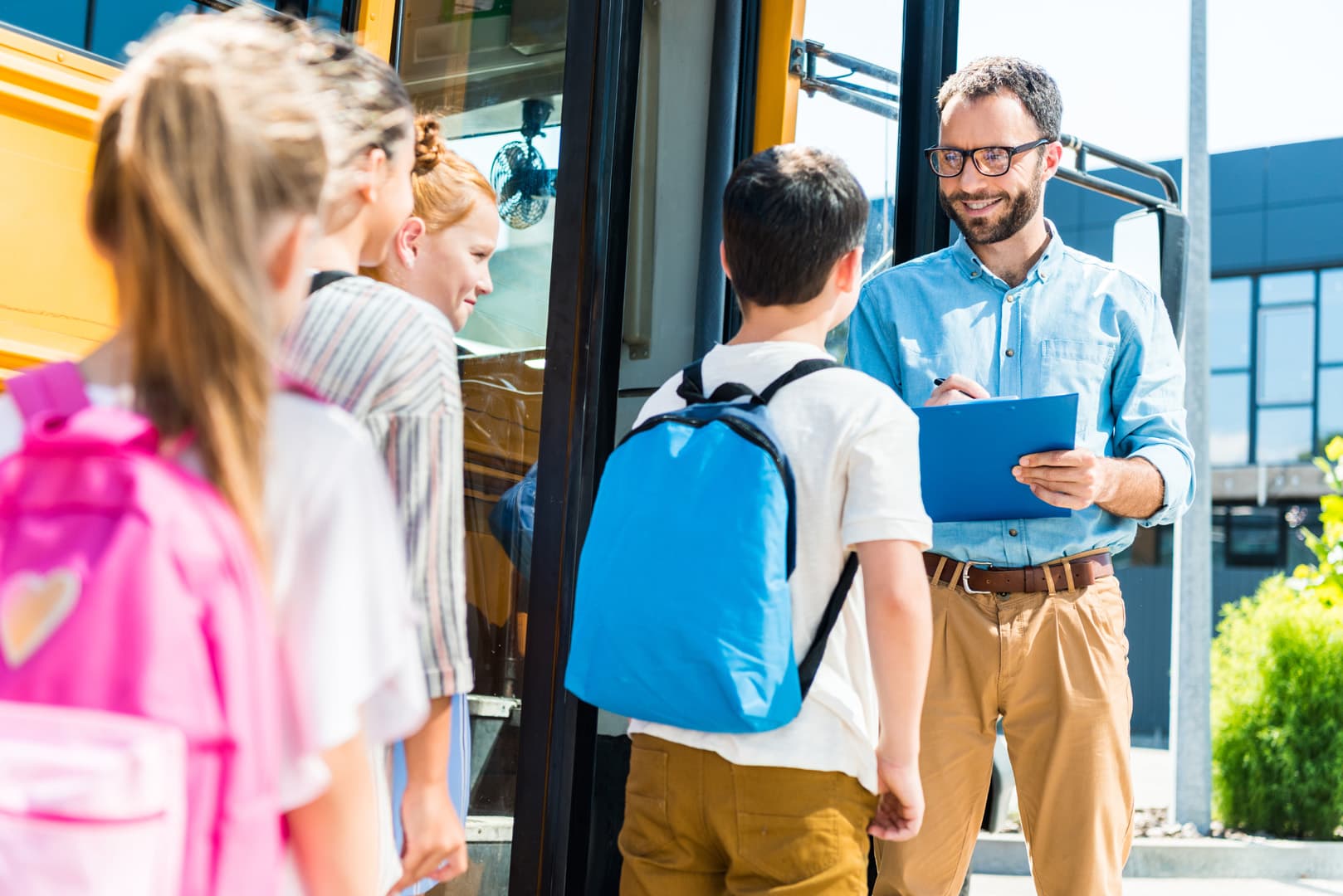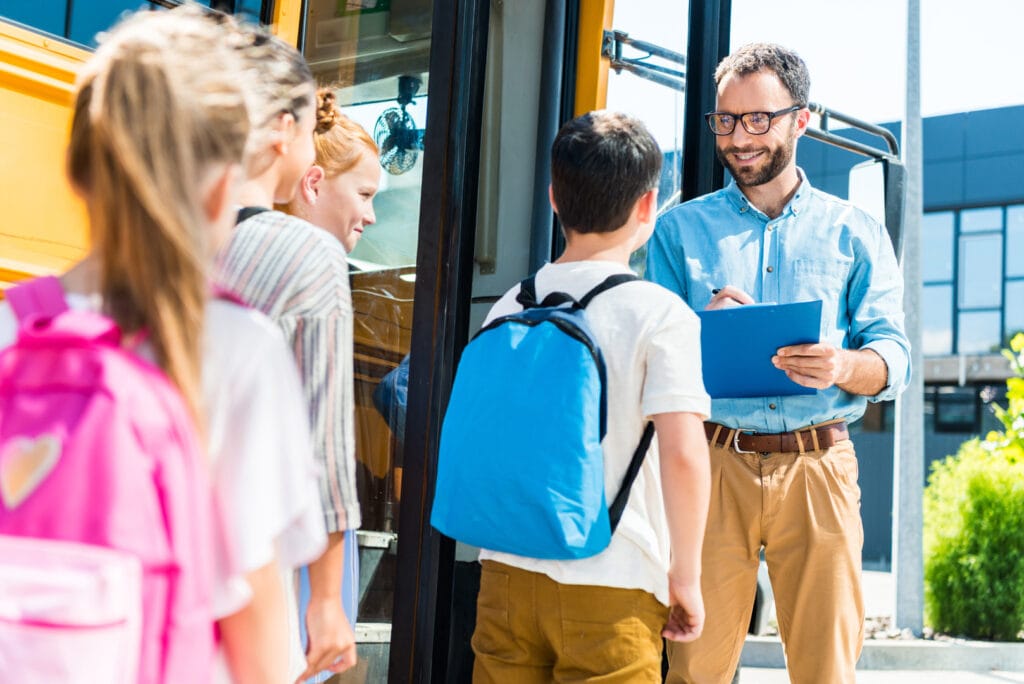 You Can Make a Difference
Back to school safety should be a non-negotiable for drivers, bus owners and school district officials. Everyone must do their part to ensure the safety of adults, workers, drivers, and the most vulnerable - students. Consider adding top-of-the-line safety measures like Doran's exterior light monitor, sleeping child monitor, LED lights, and TPMS systems to your bus fleet.
By staying vigilant behind the wheel and investing in school bus safety products, we can create a safer environment for our children as they return to school.
Contact our team today to get this important safety discussion started.
Minor issues with your tires can have a profoundly negative effect on the profitability of your trucking business. Therefore, maintaining tight control over your tires' condition is in your best interest. The Doran 360TM TPMS, or tire pressure monitoring system, continually monitors your vehicle's wheels to alert you of low inflation pressure, temperature changes, and rapid deflation events. If you're wondering exactly how TPMS can help you, this is the article you've been searching for! We'll take a look at a few ways that Doran 360TM TPMS assists owner-operator truck drivers. Soon, you'll wonder how you ever functioned without it!
8 Ways TPMS Helps Owner-Operator Truck Drivers
As an owner-operator, you'll need to keep a close eye on your profit margins. With so many factors to consider, keeping track of everything can be overwhelming. Luckily, a tire monitoring system makes your job much easier! Here are eight ways Doran 360TM TPMS helps owner-operator truck drivers.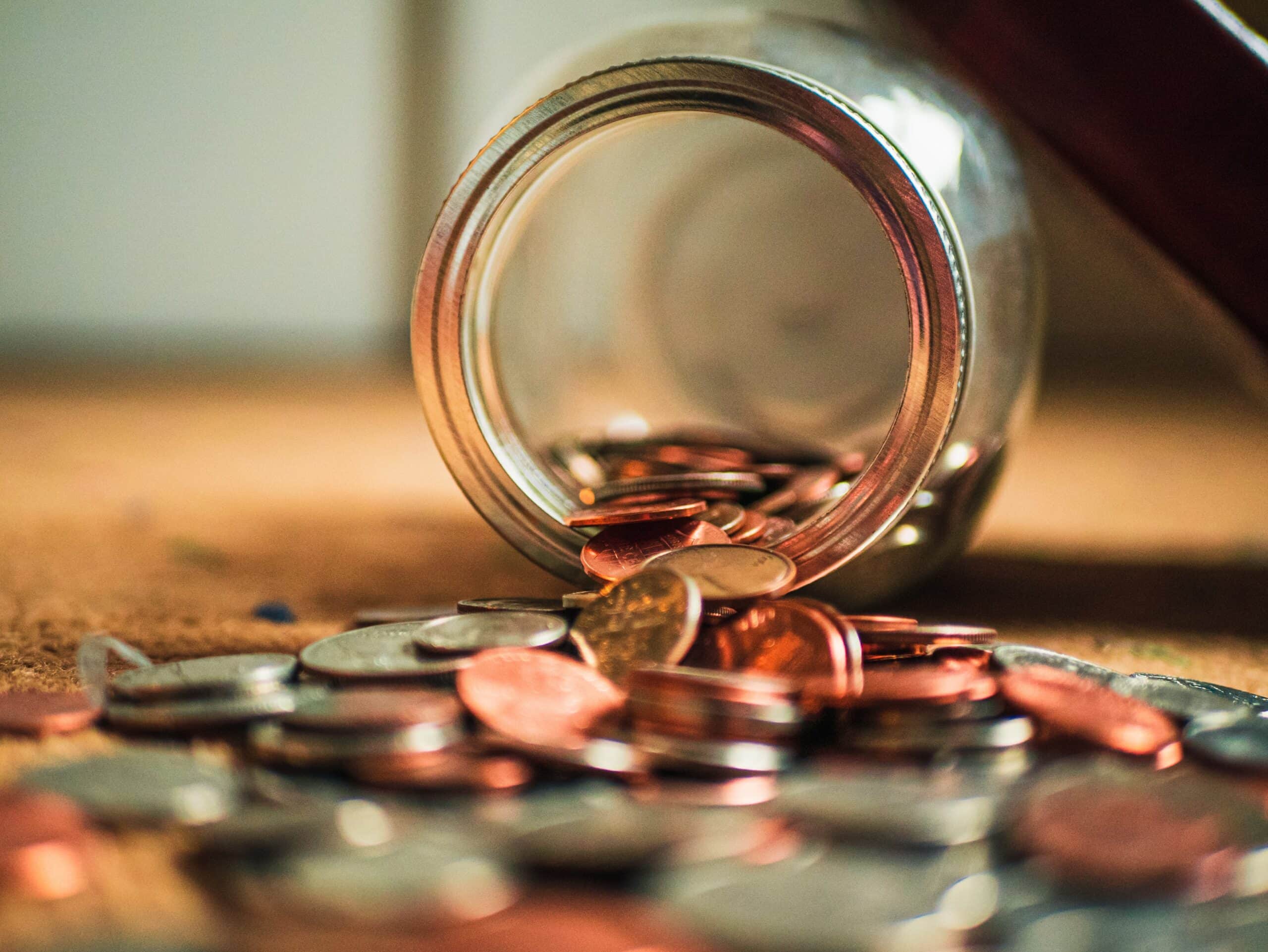 It Saves You Money
Although investing in a Doran 360TM TPMS can initially feel like just another expense, it'll save you a lot of money as time goes on. When you install your Doran 360TM TPMS, you will typically see a return on your investment in as little as six to nine months. Using a tire monitoring system to maintain proper tire pressure can save you upwards of $800 a year by reducing tire-related maintenance costs.
Maintaining proper inflation pressure can help to improve fuel economy, which helps you save even more. Under-inflated tires increase lag, slowing your vehicle down and making it work much harder. As a result, underinflated tires increase fuel consumption and worsen gas mileage. This translates to less money in your pocket.
By correcting this lag, it's estimated that TPMS systems help save American truckers a whopping $511 million on gas alone.

You can rest assured knowing the cost of your Doran 360TM TPMS is upfront. You won't have any surprise monthly fees or additional software requirements. All you have to do is install the sensors & in-cab display, and you'll be able to sit back and watch your savings grow!
Doran 360TM TPMS Improves Safety
Another significant benefit of a TPMS is that it can help decrease the likelihood of you getting in an accident. As you drive, your Doran 360TM TPMS system will continually monitor your tires for signs of overinflation, underinflation, temperature changes, and rapid air leakage. In addition to the "Green Means GoodTM" indicator light, you'll receive an audible alert to dangerously low pressure or high temperature conditions.
That gives you plenty of time to pull over and make your way to a safe location before your tires give out. The main benefit of Doran 360TM TPMS is that they help you prevent tire failure by making sure your tires stay at the recommended inflation pressures. Your truck will also drive better, giving you more control, even on challenging terrain. The safety boosting effects are so significant that TPMS save as many as 660 lives and prevent up to 33,000 accident-related injuries each year.

The more worn down your tires are, the more likely you are to have a dangerous blowout. By optimizing your tire pressure, you can stave off wear and keep your tires in peak condition much longer than you could otherwise. A Doran 360TM TPMS will help keep your tires in a temperature and pressure range that promotes maximum safety without you having to spend a lot of time manually checking each tire's air pressure before and after your trip.
You May Qualify for Better Insurance Rates
After installing your Doran 360TM TPMS, reach out to your insurance providers and let them know about the upgrade. Because TPMS improve safety, some insurance companies are willing to pass on the savings. They may offer lower premiums for trucks fitted with a TPMS, leading to substantial savings over time. The reduced risk of accidents can further lower your premiums, making the Doran 360TM TPMS an even more effective money-saving tool.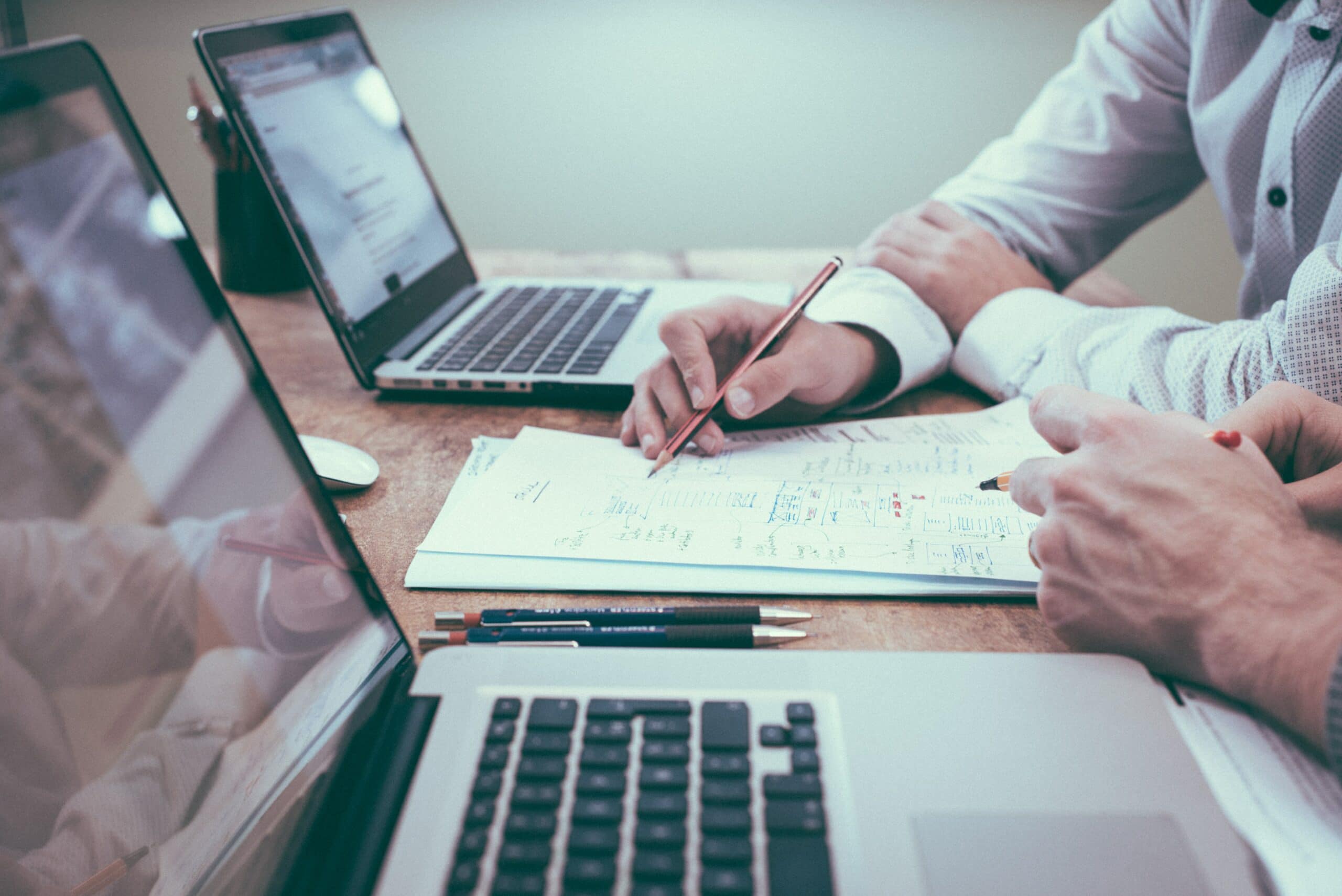 Doran 360TM TPMS Increases the Lifespan of Your Tires
Under-inflated and overheated tires dramatically increase wear and can shorten the lifespan of your tires. Optimizing tire pressure and temperature allows you to keep your tires running efficiently and avoid uneven tread wear. A Doran 360TM TPMS also reduce the amount of friction-related damage you face. If left unchecked, friction can cause your tires to overheat and disintegrate. Doran 360TM TPMS will help your tires last longer, so they need fewer repairs and replacements during their lengthened lifespan.
TPMS Helps to Reduce Expensive Road Calls And Downtime
Every minute you spend off the road eats into your narrow profit margins. Luckily, Doran 360TM TPMS helps keep your truck on the road. Driving on tires that aren't optimally filled escalates wear and increases your chances of having a blowout or getting into an accident. By reducing the amount of time your truck spends out of commission, you'll be able to widen your profit margins and keep your vehicle on the road earning money.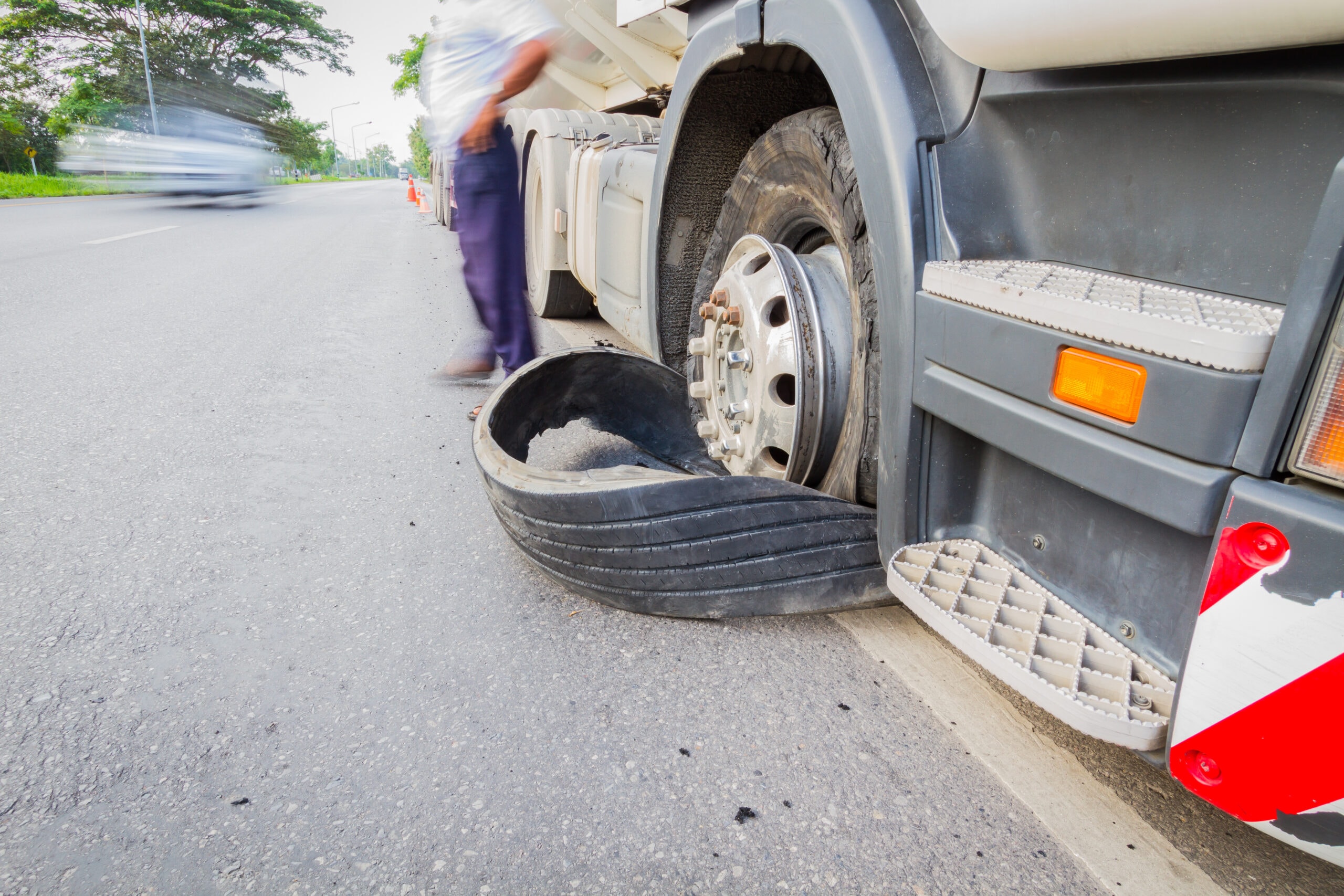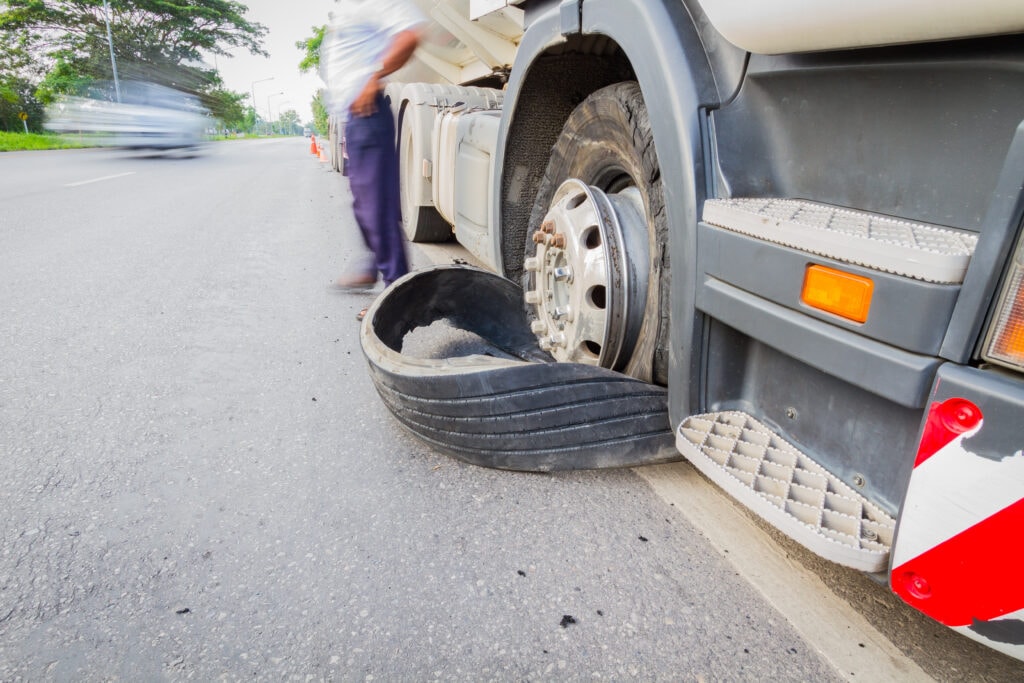 Doran 360TM TPMS is Easy to Install and Operate
With all the benefits Doran 360TM TPMS provides, you may be surprised to find that installing, programming, and operating the system is incredibly simple and straightforward. The system's wireless sensors continually transmit tire pressure & temperature data to an easy-to-read in-cab display for quick identification of any tire issues.
And installation is quick and easy, too. In about an hour the system can be installed and fully operational.
After installation, there aren't any additional software or data requirements, so you won't have any unwelcome surprises further down the road. The wireless tire pressure sensors last an average of 4 to 5 years, so you won't have to worry about replacing them regularly.
The Value of Your Truck Will Increase
Since Doran 360TM TPMS saves you money on operation costs, they also add value to your truck. Because properly inflated tires prevent damage, your truck is less likely to depreciate in value due to accidents. If you sell your truck, you'll also be able to factor your TPMS into the vehicle's overall price and charge a higher amount.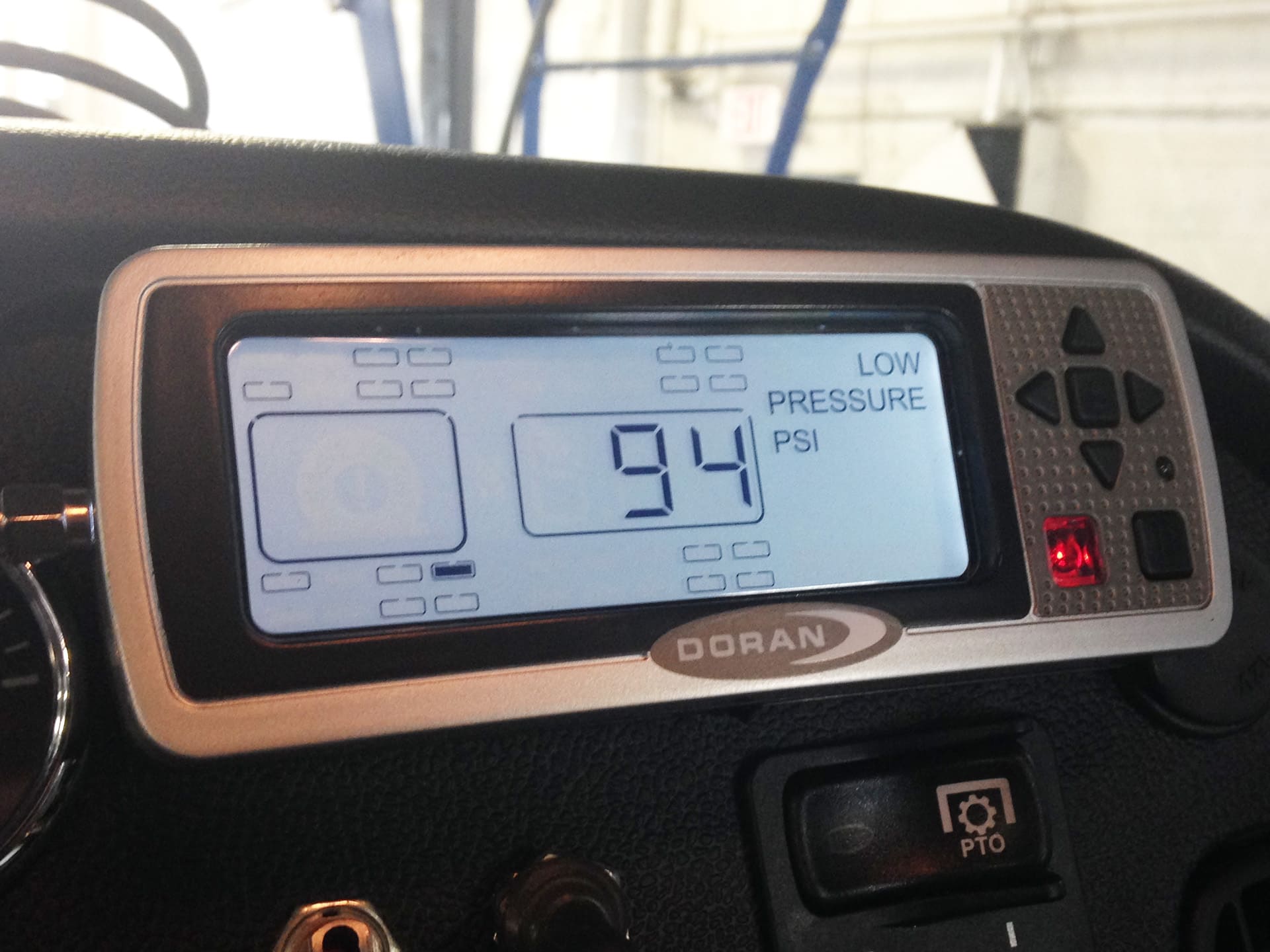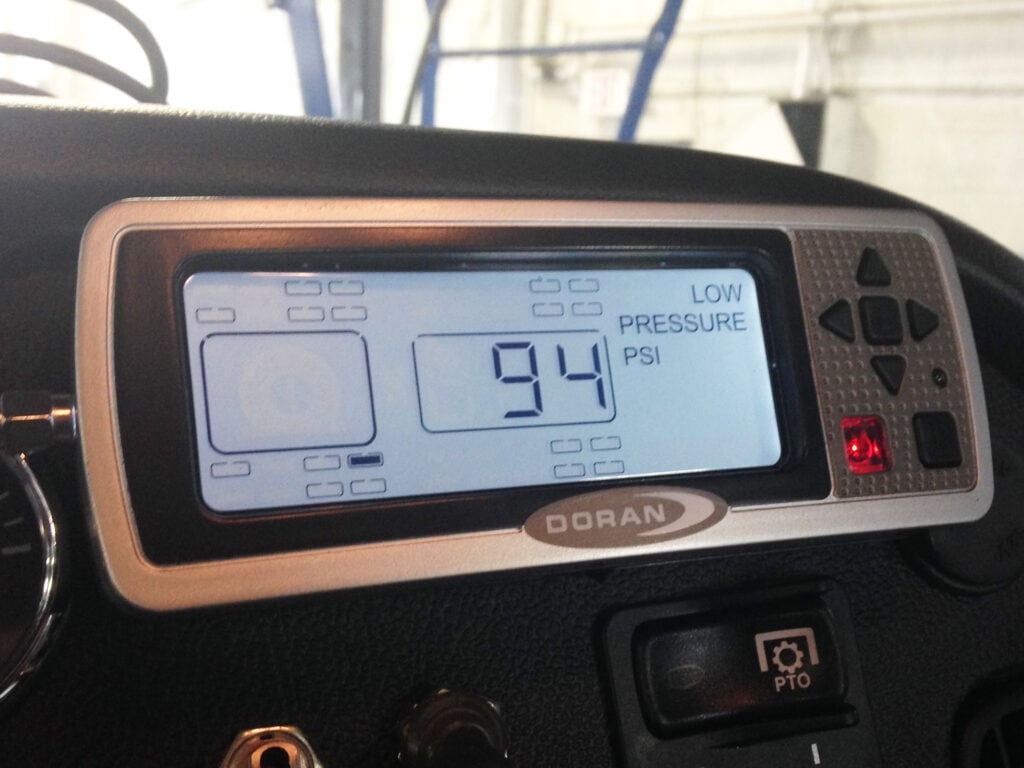 Doran 360TM TPMS Save You Time
A Doran 360TM TPMS will make your pre and post-trip inspections a breeze. Not only is the digital display easy to read, but with the improved fuel efficiency, you also won't have to stop for fuel as often. Additionally, you'll have peace of mind knowing that your tire's air pressure is being continually monitored, so you can keep their focus on the road. What's more? You won't have to spend nearly as much time replacing or repairing your tires, which further adds to the Doran 360TM TPMS time-saving capabilities.

So, there you have it! Doran 360TM TPMS are an easy-to-install, valuable tool for owner-operator truck drivers and could be just the thing you need to get the most out of your trucking business. Although they aren't mandatory for commercial trucks, they're a practical cost-saving safety feature that has saved millions of dollars and thousands of lives. We hope this article has helped explain some of the benefits of investing in a Doran 360TM TPMS and helped you decide if you could benefit from them.
Give us a call today so we can help you choose the right TPMS solution for you!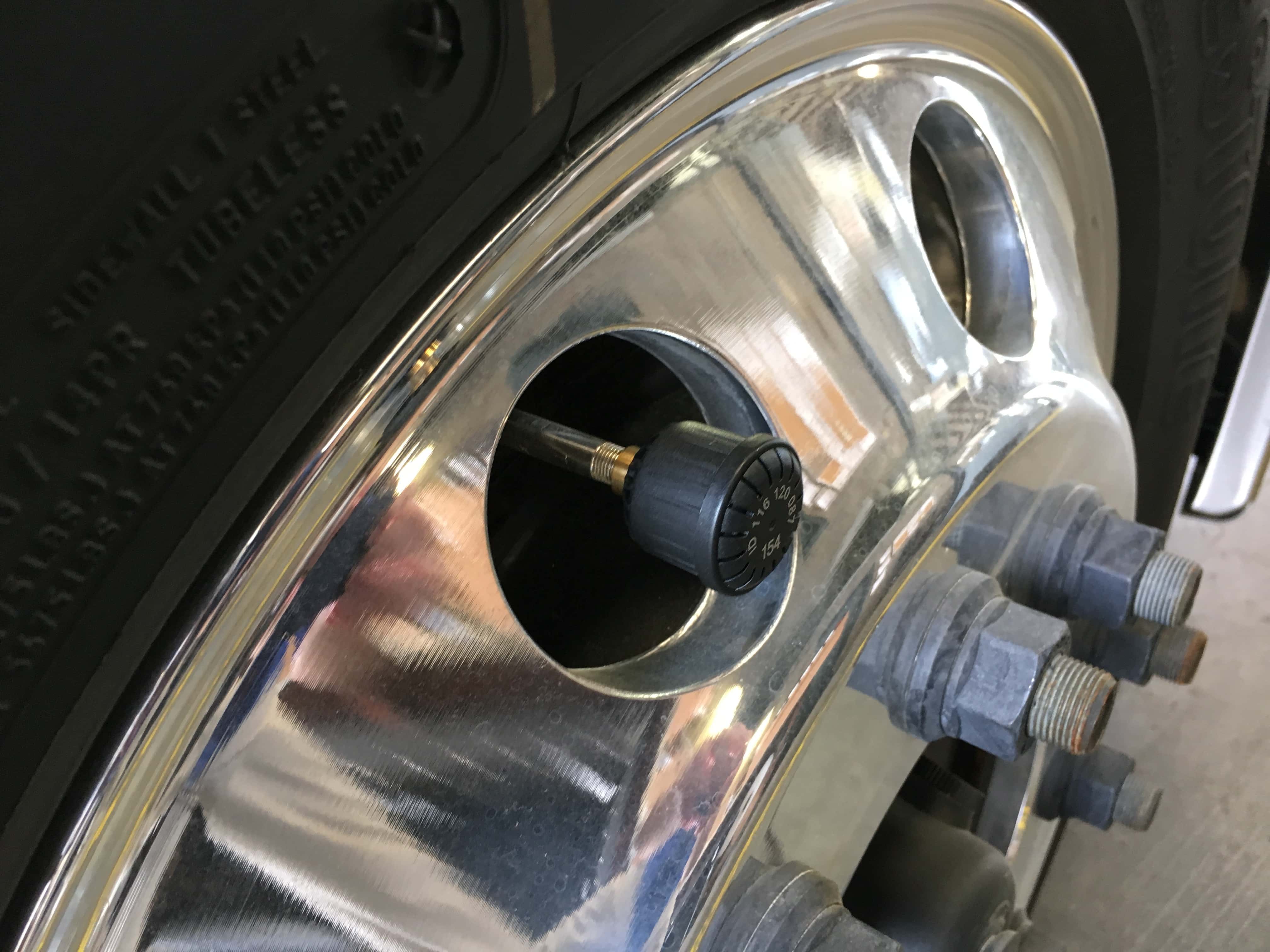 Explore Doran's TPMS Options
If you're ready to make your drivers' lives easier and your tires last longer, Doran has a TPMS solution for you. We equip every kind of truck and trailer combination, tankers, auto haulers, construction vehicles, and more.
Give us a call or send us a message to learn what TPMS can do for your fleet.
Get Your Drivers Discussing the Dangers of How to Choose the Best Tires for Waste Hauler Trucks
Whether your fleets service residential or commercial routes, refuse trucks regularly encounter severe conditions that can destroy a standard tire within a few months. That's why selecting the right tires for your waste hauling trucks is vital to your fleet operation. If you're wondering how to mitigate damage and get the most out of your tires, you're in the right place! In this article, we'll dive into how to choose the best tires for your waste haulers. We'll also take a look at how new tires stack up compared to used tires and share some tips for how to best preserve your investment.
Why Choosing The Right Waste Hauler Tires Is Critical
Your tires are the main point of contact between your truck and the road. That's why it's imperative to choose quality tires that can handle the curb hugging, constant stopping and going, rough terrain, and extreme road temperatures that come with waste hauling.
Not all tires are created equal, and picking the right ones will save you money, increase your tire's longevity, and keep your drivers safe by preventing tire failure-related accidents. It also reduces fuel consumption and eliminates the need for frequent tire replacements and repairs.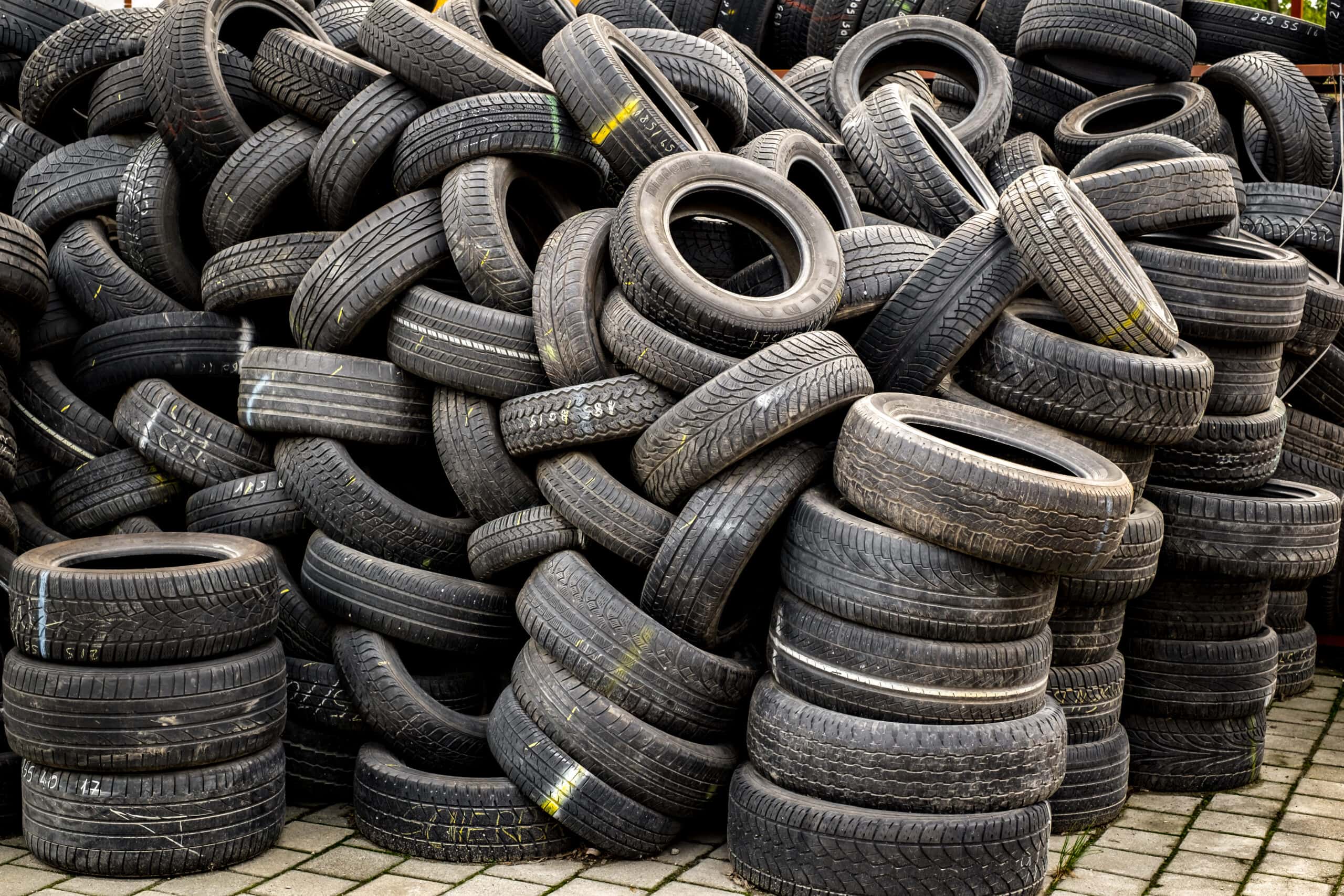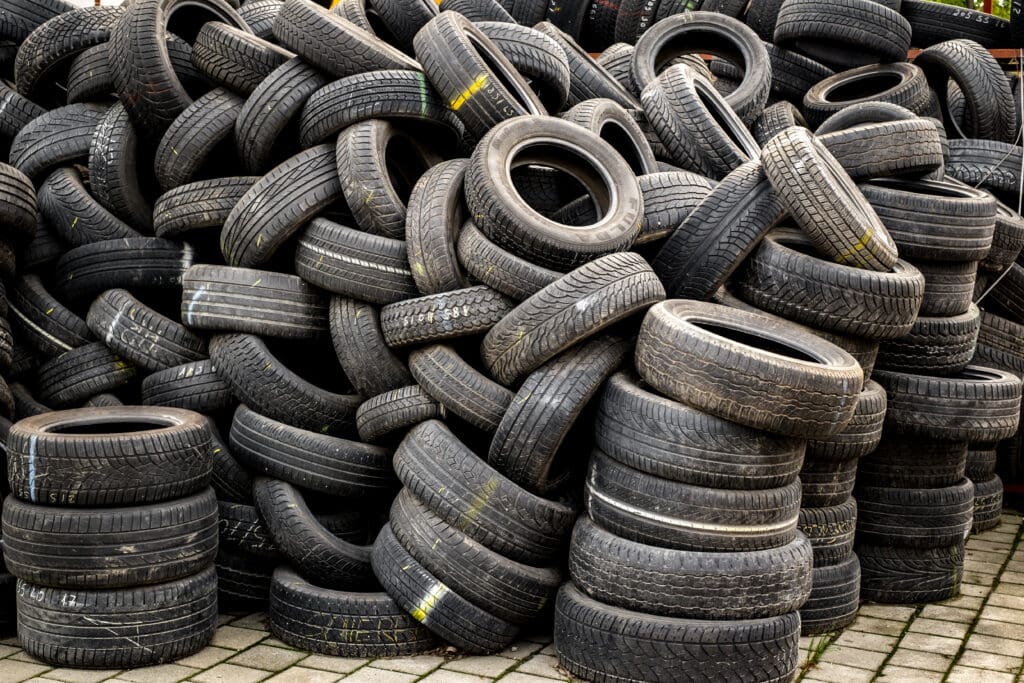 Qualities of a Solid Waste Hauler Tire
Although there are plenty of alternatives on the market, using tires made explicitly for waste haulers is one of the best ways to keep your trucks operating safely and efficiently. Waste hauler trucks weigh an average of 45,000 pounds, and that weight dramatically increases once the hauler is full. This puts a lot of pressure on the tires, so you'll have to make sure your tires are up to the task and can haul such a heavy load without sacrificing performance and safety.
Additionally, waste hauler tires have to handle all different types of terrain and jerking from frequent starting and stopping. And if your trucks make drop-offs at a landfill, your waste hauler will have to tackle unpaved, off-road conditions, which can put regular commercial tires at an extreme disadvantage. In addition to being heavy-duty, waste hauler tires have to hold up to harsh driving conditions, whether that's rain, sleet, snow, or extreme summer heat.
Which Tires Are Best? 4 Factors to Consider
Now that you know how essential good tires are, we'd like to spend a minute reviewing how to determine which tires are best for waste haulers. Here are four factors to consider before deciding on new tires.
The Nature of The Tire: Heavy-duty Tires are Best
Tires that are made explicitly for waste haulers are designed to withstand the harsh and often unpredictable nature of waste hauling. They're better suited at keeping up with dramatic changes in the pavement, frequent braking, and occasional off-road driving. While many people opt for standard commercial truck tires, specialized tires are built to perform under challenging conditions. Regular trucking tires last an average of 25,000 to 75,000 miles; by comparison, waste hauler tires are more durable and remain in drivable condition for around 80,000 miles.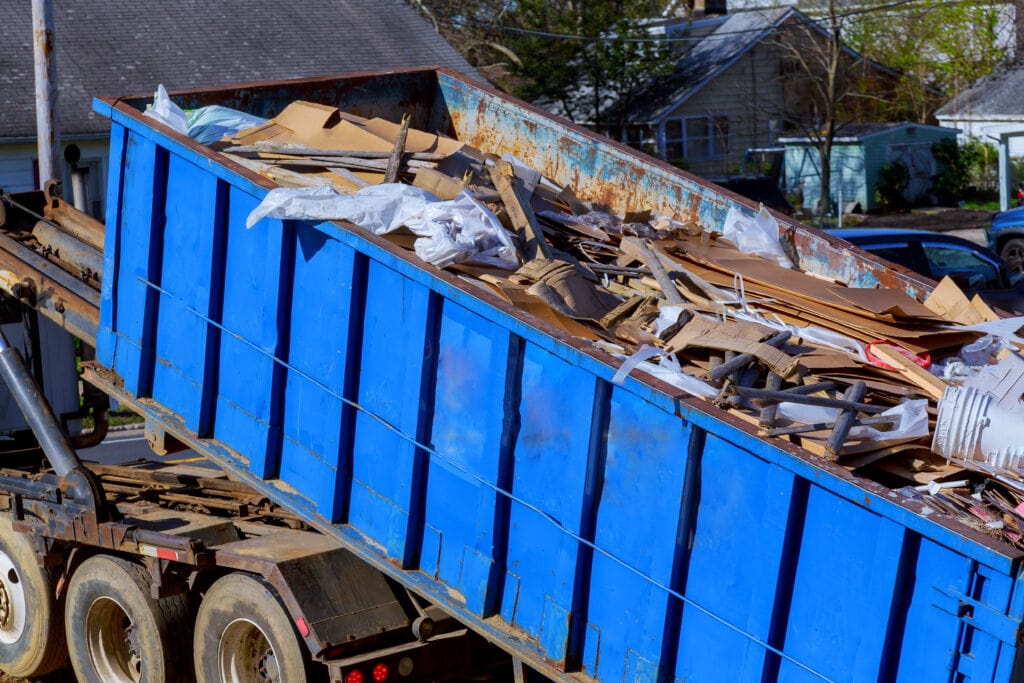 The Performance
Before getting a new set of tires, research how well the tire grips the road while driving. You should also ensure the tires perform well under adverse driving conditions like inclement weather, high speeds, and sharp turns. Waste haulers may be expected to travel through rural streets with rocks and gravel or slick city streets where curbs and high-scrub environments create challenging driving conditions. You'll want to ensure your tires can handle whatever you throw at them, so start off on a good foot by purchasing a high-performance tire.
The Size
Choosing the correct tire size is one of the most crucial aspects of deciding on a new set of tires. The most common size for waste haulers is 315/80R22.5. Tires that are larger or smaller might not last as long due to their inability to carry the heavy load or maintain optimal air pressure. If you want your investment to last, consider the tire tread depth. Choose tires with a broad, deep tread that can support a waste hauler vehicle's weight.
Weather Capabilities
Waste hauling trucks are expected to operate year-round, whether that's in the hot summer sun or in the iciest part of winter. If your fleet operates often drive in a colder environment or an area with cold winters, you'll need to make sure your tires can perform in ice and snow. Studded and studless winter tires are designed to withstand prolonged winter conditions. They stay soft and flexible even when the temperature dips below 0 degrees. That improves traction, control, and handling, keeping your trucks and drivers safe.
Used Vs. New Tires
Are you trying to decide between buying new or used tires? The main benefit of used tires is that they are almost always cheaper. Typically, they cost about 30% to 50% less than brand-new tires. You might even get lucky and find used tires that are barely worn and in nearly new condition. However, you also risk buying used tires that aren't in good condition and have a drastically shortened lifespan. They will likely also wear out more quickly than new tires due to the pre-existing wear.
On the other hand, new tires have better quality control, and you typically get exactly what you pay for. While new tires are more reliable, you'll have to pay a heftier price.
Before you purchase used tires, check out their condition in person. If the sale is online, look at pictures for signs of damage. That way, even if the damage isn't accurately described in the listing, you can reduce your chances of buying a used tire in poor condition.
How To Maintain Your Waste Hauler Tires
Whether you opt for new or used ones, your waste hauler's tires are undoubtedly an investment. No one wants to waste money if they don't have to, so here are a few tips to help you get the most out of your tires. Share this list with your waste haulers if you own or manage a fleet operation.
Check your tire pressure - Driving on under or over-inflated tires decreases fuel efficiency and increases your likelihood of wearing out your brand-new tires. To prevent this, maintain optimum tire pressure and avoid underinflation or overinflation. You should also consider investing in a tire pressure monitoring system (TPMS) that will check your tires' air pressure while your trucks are on the road.
Get your tires rotated - Having your tires rotated helps you maintain a smooth, comfortable ride by ensuring there's an even amount of tread on all sides of your tires. Get your tires rotated every 5,000 to 8,000 miles and check the alignment often.
Watch your tread - Worn tire treads decrease your tire's effectiveness and result in significantly less traction. This can increase your chances of facing a severe blowout and makes driving more dangerous. Keep an eye on your tire tread, and use retreading products as necessary.
Use the same tires - While you might be tempted to use what you have on hand, don't mix and match tires from different manufacturers if they're on the same axle. Doing so can cause your truck to drive unevenly, leading to increased wear.
Maintain safe driving practices - The safer you drive, the less stress you'll put on your new tires. Try not to break or accelerate too quickly, and avoid scraping against curbs by giving yourself plenty of room for turns.
To sum things up, choosing the right tires will save you money, improve vehicle performance, and help keep your drivers safe. Whenever possible, set yourself up for success by opting for tires specifically designed to meet the needs of waste haulers. We hope this article has provided you with all the information you were looking for and helped you figure out how to choose the right tires for your refuse trucks.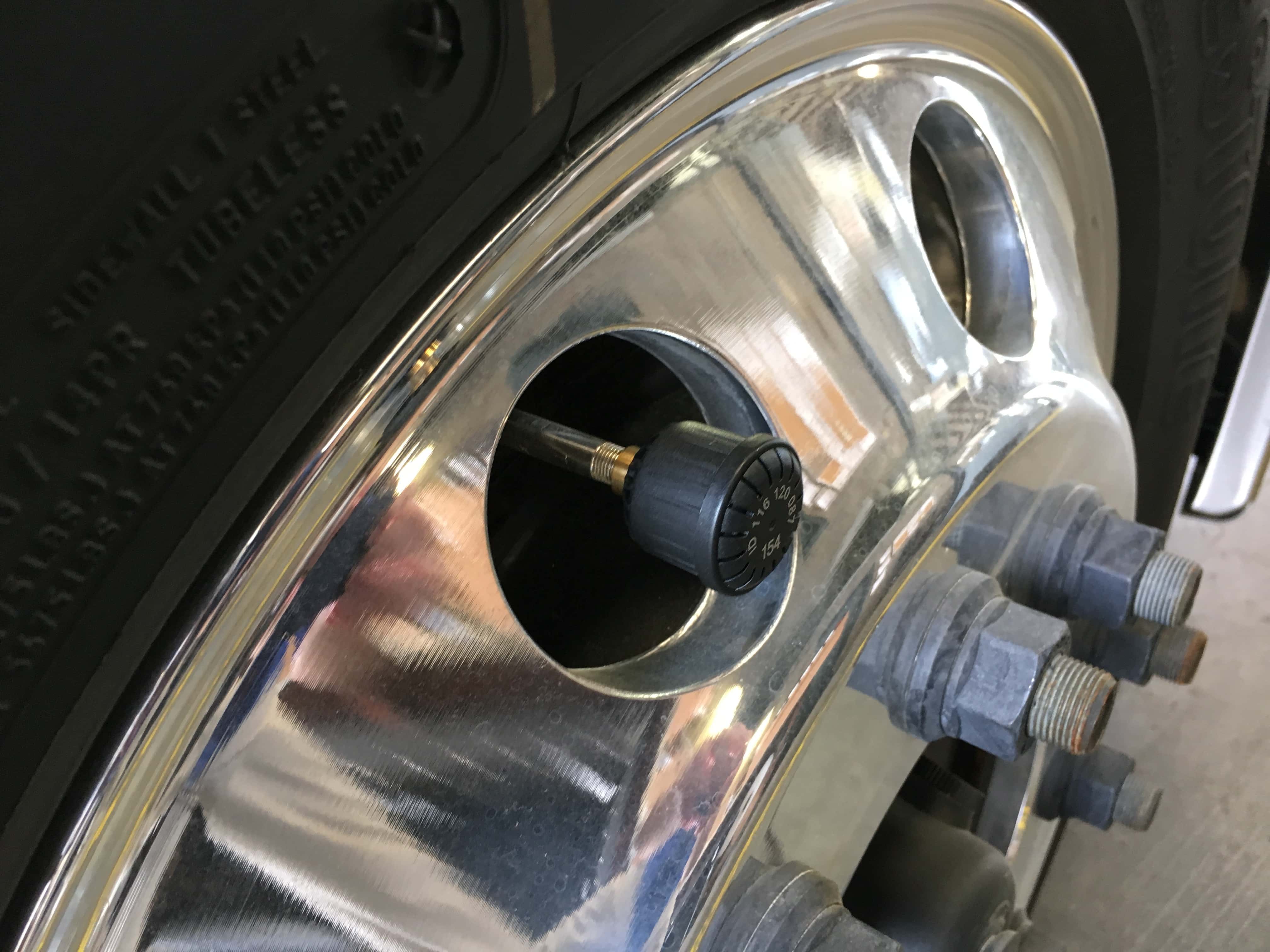 Explore Doran's TPMS Options
If you're ready to make your drivers' lives easier and your tires last longer, Doran has a TPMS solution for you. We equip every kind of truck and trailer combination, tankers, auto haulers, construction vehicles, and more.
Give us a call or send us a message to learn what TPMS can do for your fleet.
"How do I get my drivers to care about tire maintenance?" Fleet managers have been asking this question for generations.
Checking tire pressure on 18 wheels can take a good 20 minutes. And for most drivers, that's time they aren't being paid to work. So, when it comes to tire safety, many drivers phone it in. They'll thump their tires with a club or skip checking the pressure on their inside tires.
They don't realize how much they're actually paying to save those 20 minutes.
In the best-case scenario, drivers lose out on gas mileage and tire life. That means more frequent stops for fuel and repairs — quickly eating up the time they saved. And if the Commercial Vehicle Safety Alliance (CVSA) catches them with violations, they could be pulled out of service entirely.
The worst-case scenario involves jackknifing, rollovers, and other potentially fatal accidents. Trucking is consistently named one of the most dangerous jobs in America for a reason!
With so much on the line, fleet managers must get their drivers on board with tire maintenance. And while every fleet is different, we have a few ideas to help you get started.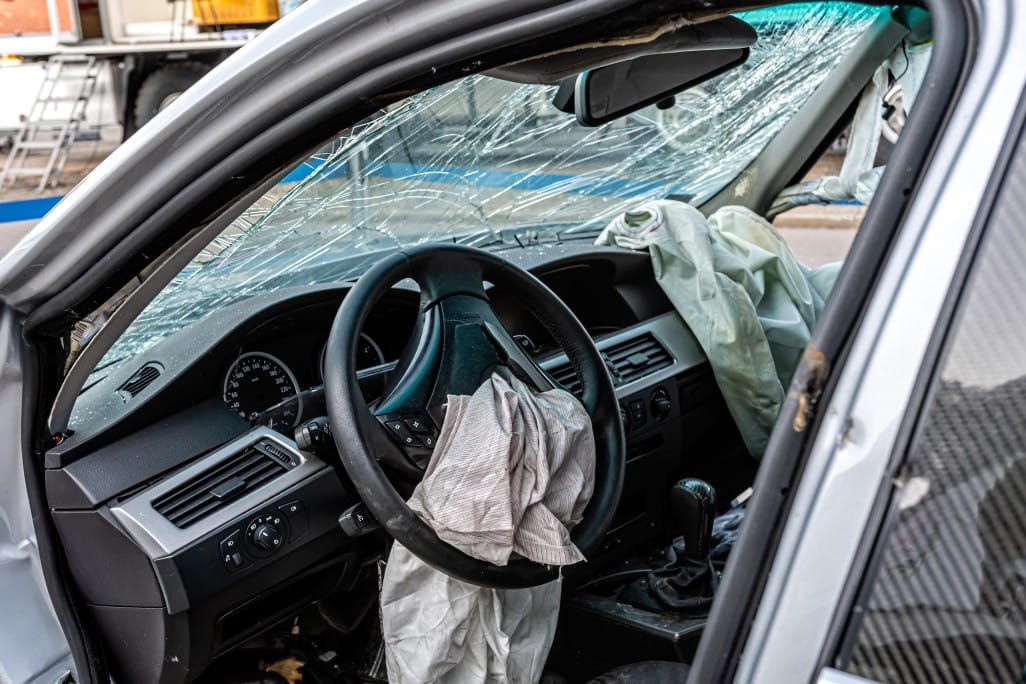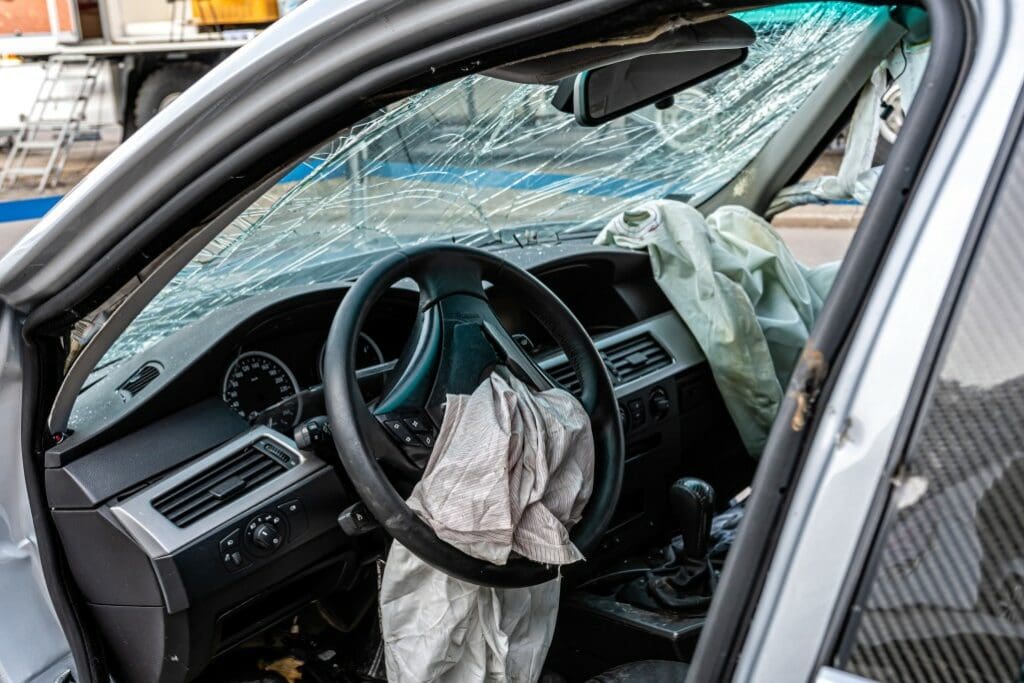 1. Get Your Drivers Discussing the Dangers of Tire Neglect
Statistics can shock us into sobriety — until we've heard the same ones 50 times. At that point, we can start tuning them out. So, find ways to bring those statistics to life. Share news stories of accidents and discuss them with your drivers. Dig into what might have gone wrong. Encourage them to talk about similar mistakes they've made and how they can avoid them in the future. You can even anonymize incidents within your fleet and share them.

There are two strategies at work here. First, we naturally remember stories better than statistics. The story of a mom being killed by a lost tire sits in your mind far longer than a simple percentage. Second, talking about mistakes within your fleet makes the dangers feel closer to home. It's hard to be lulled into a false sense of security when you know how many close calls your fleet has had.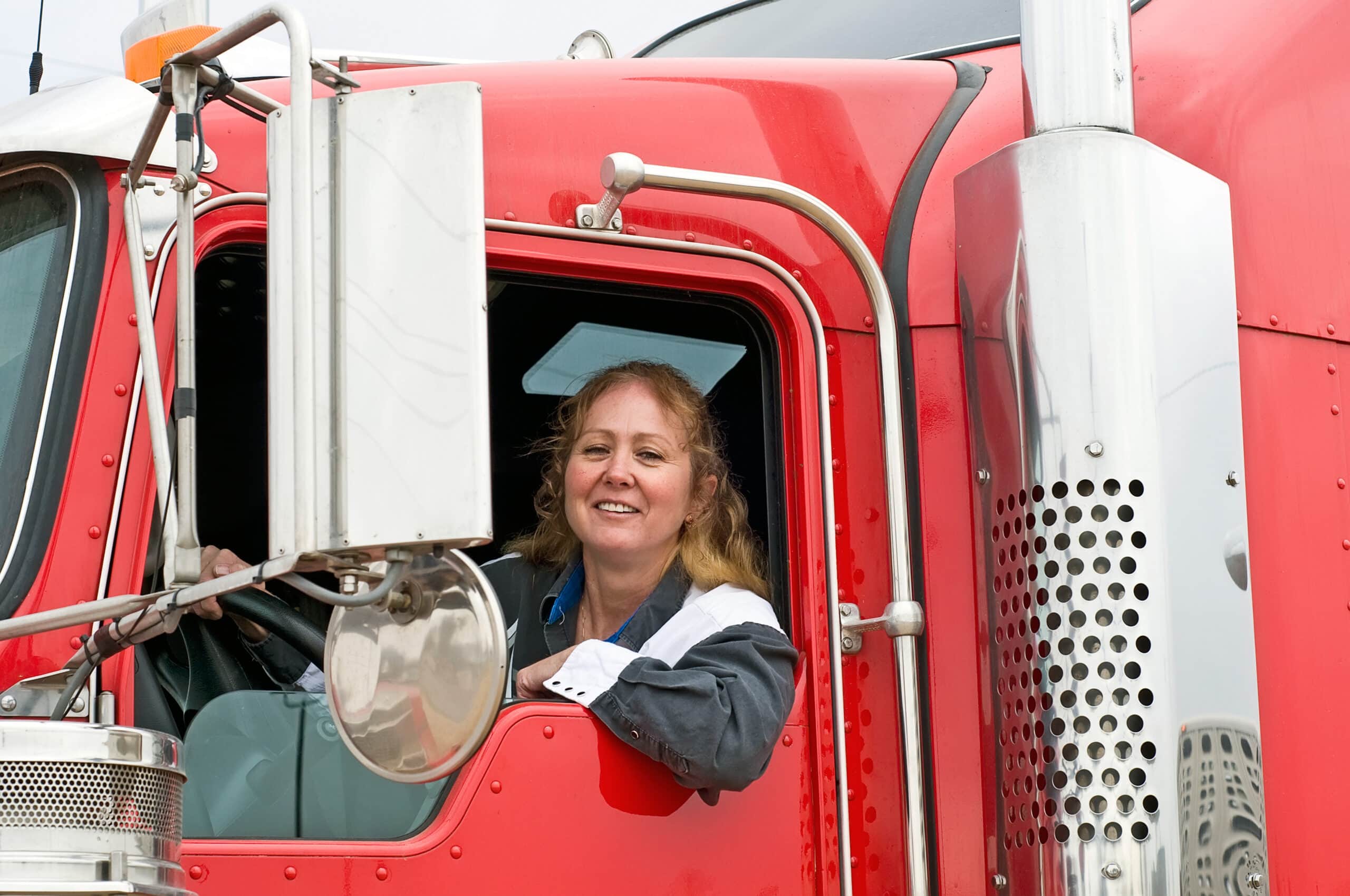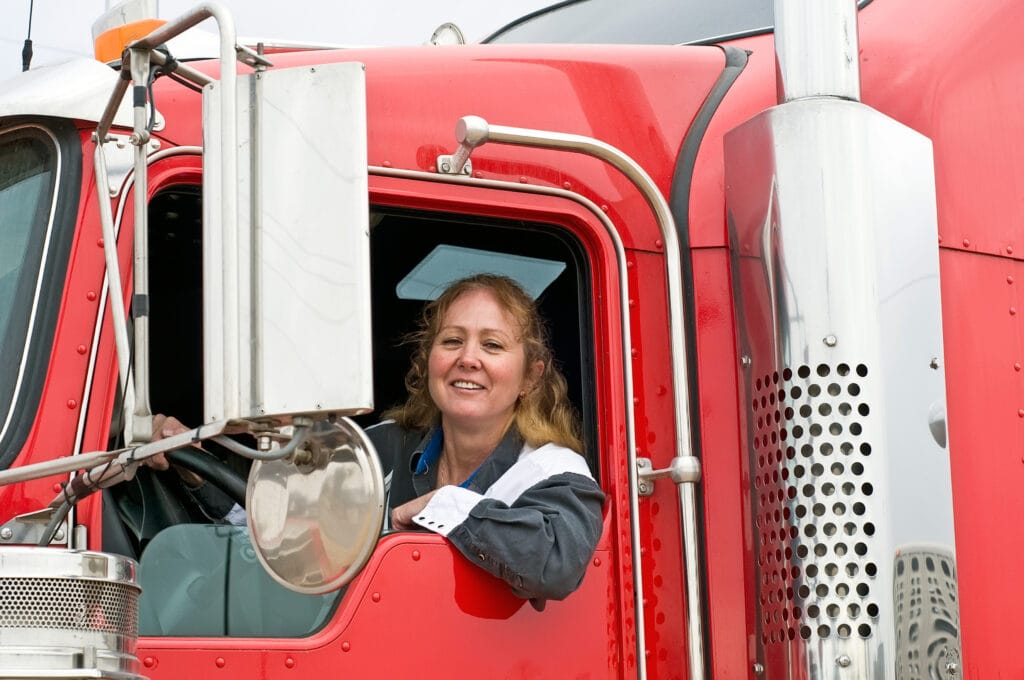 2. Consider Incentives for Good Tire Maintenance
If you can't pay drivers for their time doing tire checks, consider other incentives. Can you give a seasonal bonus to drivers who had no tire failures? Or create a seasonal raffle with entries for every haul without a tire failure? If not, consider verbal recognition for drivers with good records.
The key is finding ways to show that you value your drivers' time and diligence. When people are truly appreciated, their performance tends to rise. Even better if you can show that appreciation while adding a little fun to the process. Look at your budget and see what's possible.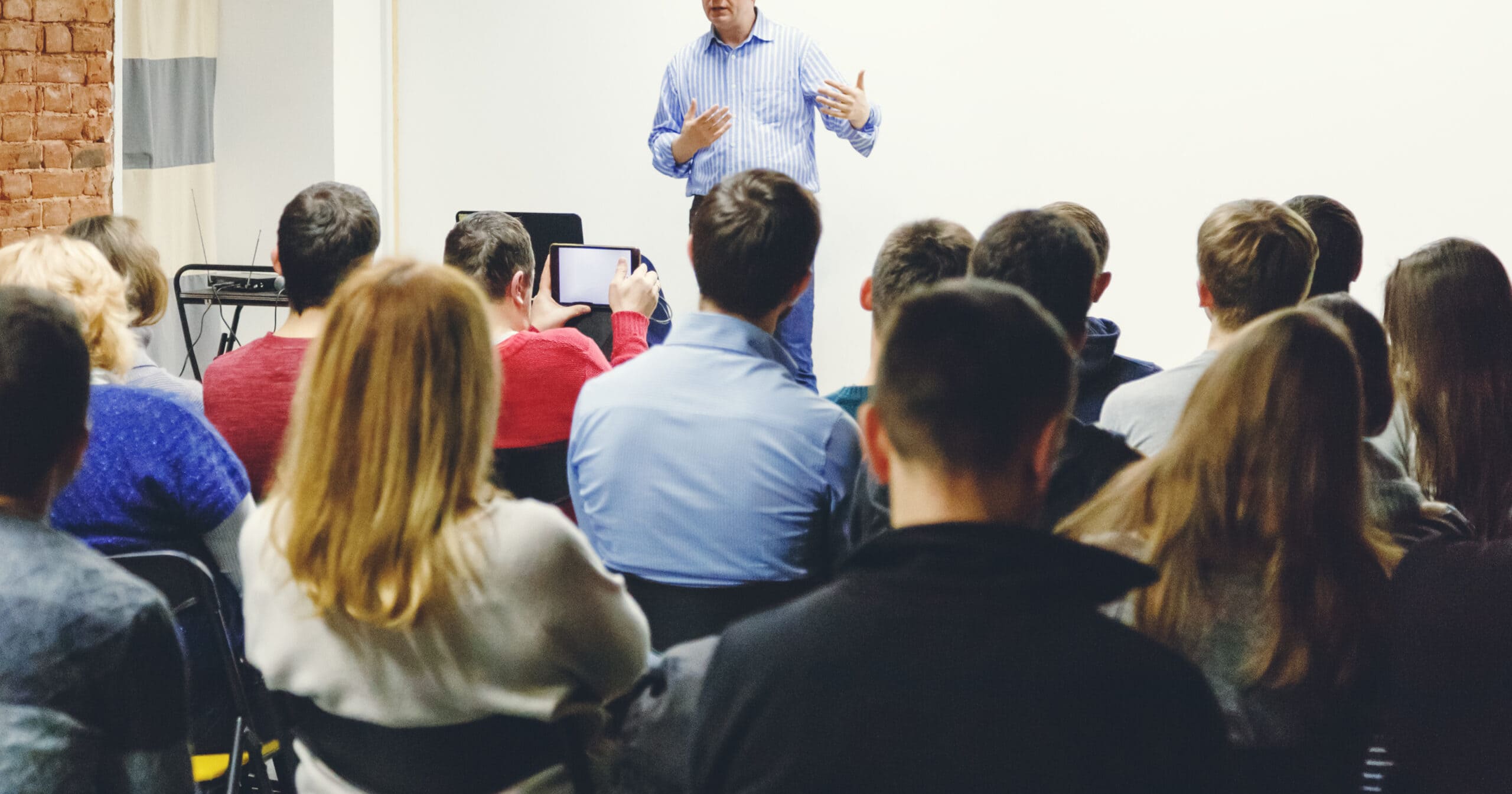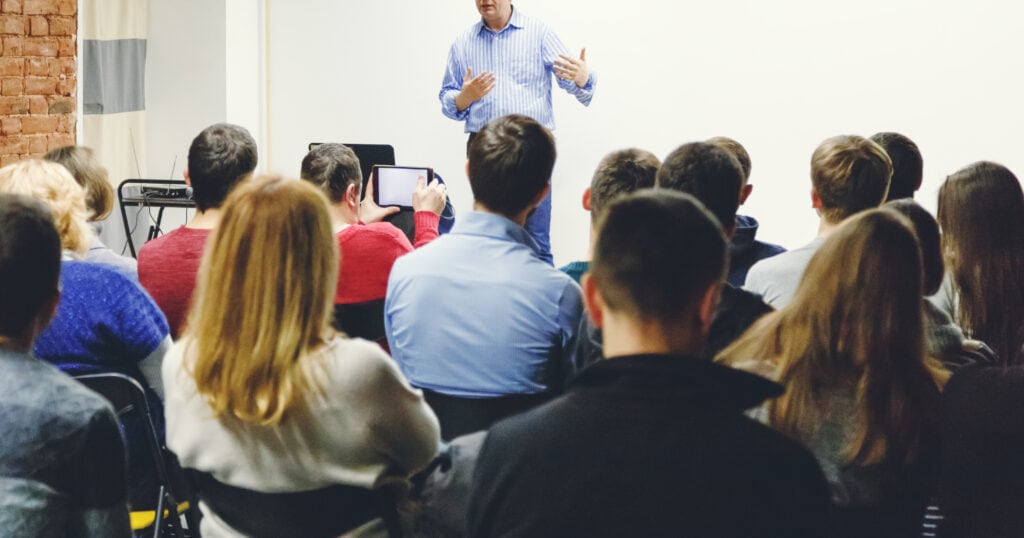 3. Teach About Time and Money Lost to Neglected Tires
If drivers are skipping tire checks to save time, they're failing themselves. Underinflated tires force drivers to make more stops for fuel and repairs. Plus, drivers who don't check their tires can face out-of-service orders and be taken off the road.
Make it clear to drivers that cutting corners doesn't pay off. Show them the calculations. Educate them so they can see tire maintenance as a tool to build their own bottom line.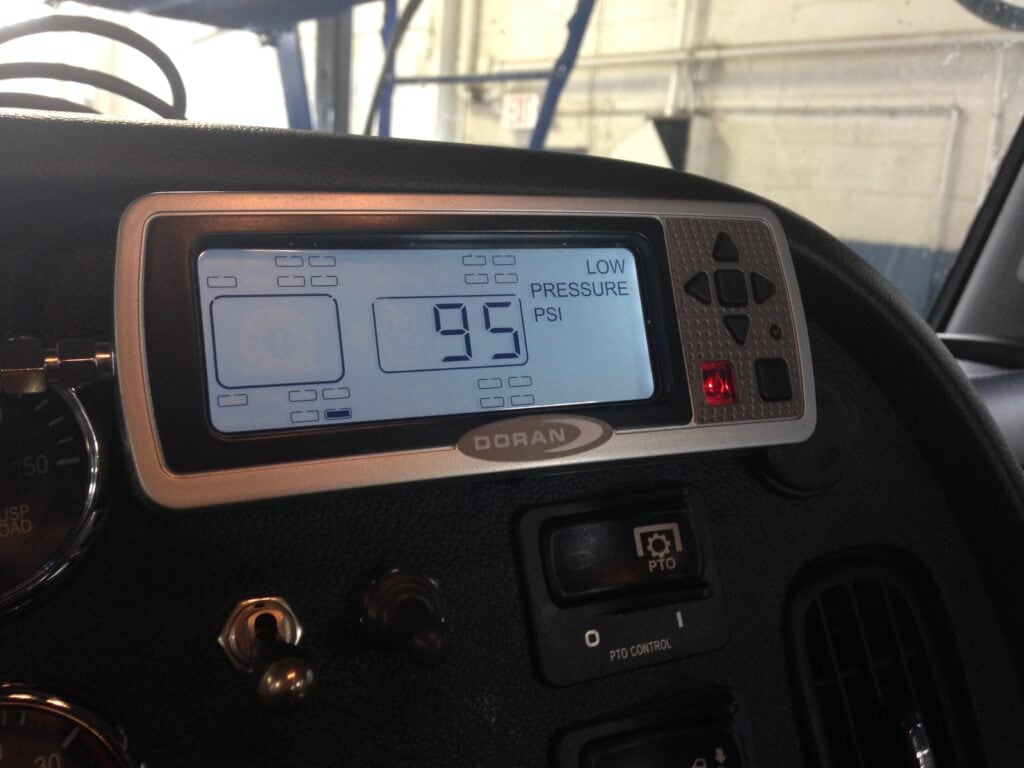 4. Make Tire Checks Quick and Easy with a TPMS
We've talked a lot about how much time tire checks take. But there is a way to make them much faster: tire monitoring systems, like Doran 360TM TPMS. You attach wireless sensors to each valve stem. The sensors then transmit pressure and temperature data to an in-cab display.
Unlike a billy club, Doran 360TM TPMS gives precise data every time. Unlike with a traditional gauge, drivers can get instant data on every tire position with the turn of a key. We've also equipped our system with a "Green Means GoodTM" indicator light that provides at-a-glance assurance that all tire inflation pressures are in a healthy range. And the system has built-in alarms for low pressure, rapid deflation, and high temperature events.
With a quality TPMS in place, checking tire pressure is effortless. Drivers are more likely to use it because they don't lose any time on the road.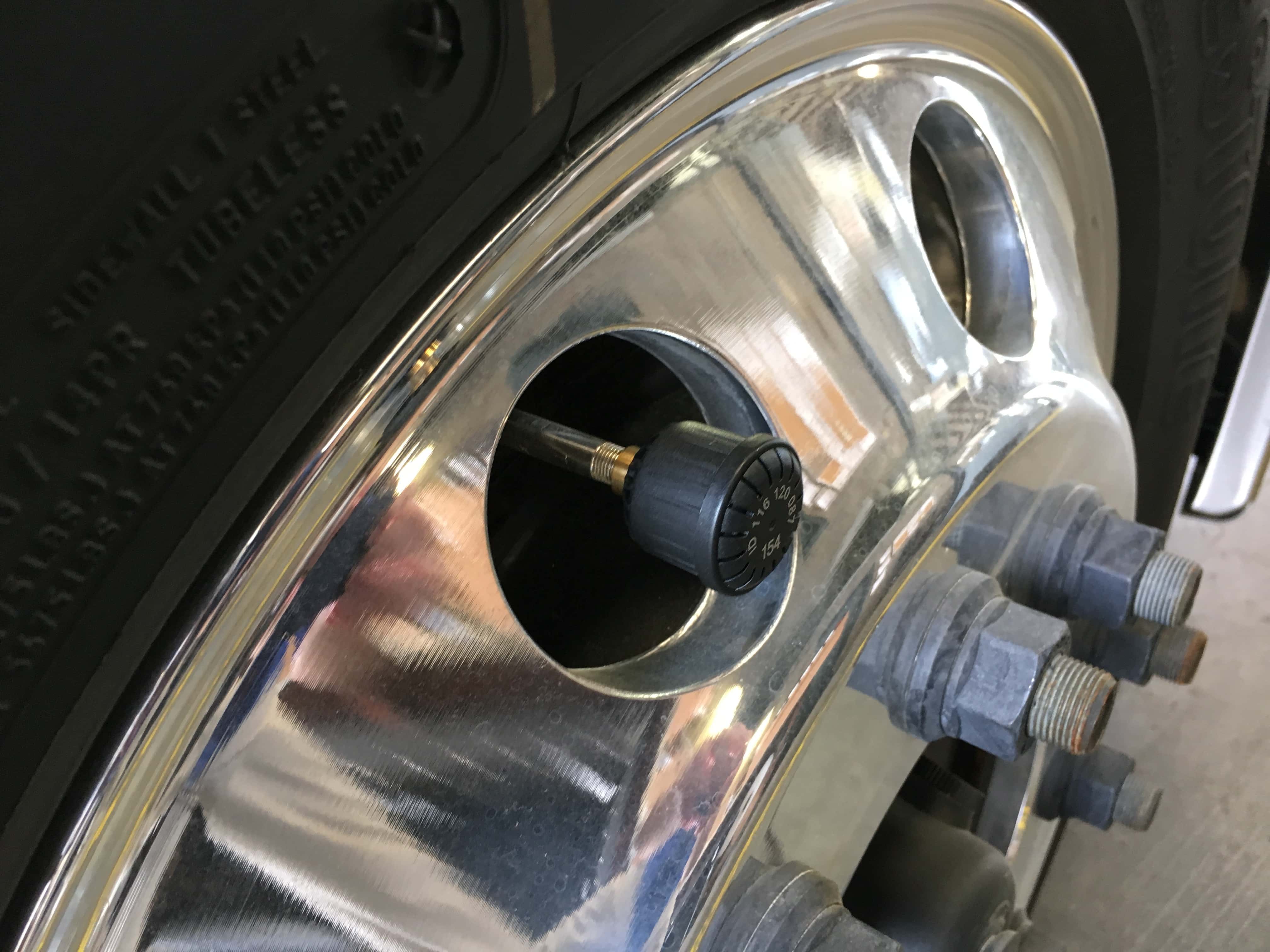 Explore Doran's TPMS Options
If you're ready to make your drivers' lives easier and your tires last longer, Doran has a TPMS solution for you. We equip every kind of truck and trailer combination, tankers, auto haulers, construction vehicles, and more. 
Give us a call or send us a message to learn what TPMS can do for your fleet. 
When it comes to dangerous driving weather, we tend to think of icy winter days. But the dangers of driving in the summer can be downright explosive.
We're talking, of course, about blowouts.
As temperatures rise outside, so does the heat inside your tires, making blowouts far more likely. And the dangers they present are twofold. First, drivers can lose control of the truck if they hit their brakes instead of accelerating through a blowout. Second, they create dangers for other drivers on the road.
A blown-out tire can throw large pieces of its tread onto the highway (also known as road gators).
Drivers often have just seconds to respond when they spot a gator. Swerving endangers others on the road, and running it over can cause thousands of dollars in damages to their car. Either way, it's a frightening experience no truck driver wants to create.
So where does this leave us? Summer driving is unavoidable. But if we understand how heat impacts our tires, we can be smart about how we handle those summer hauls.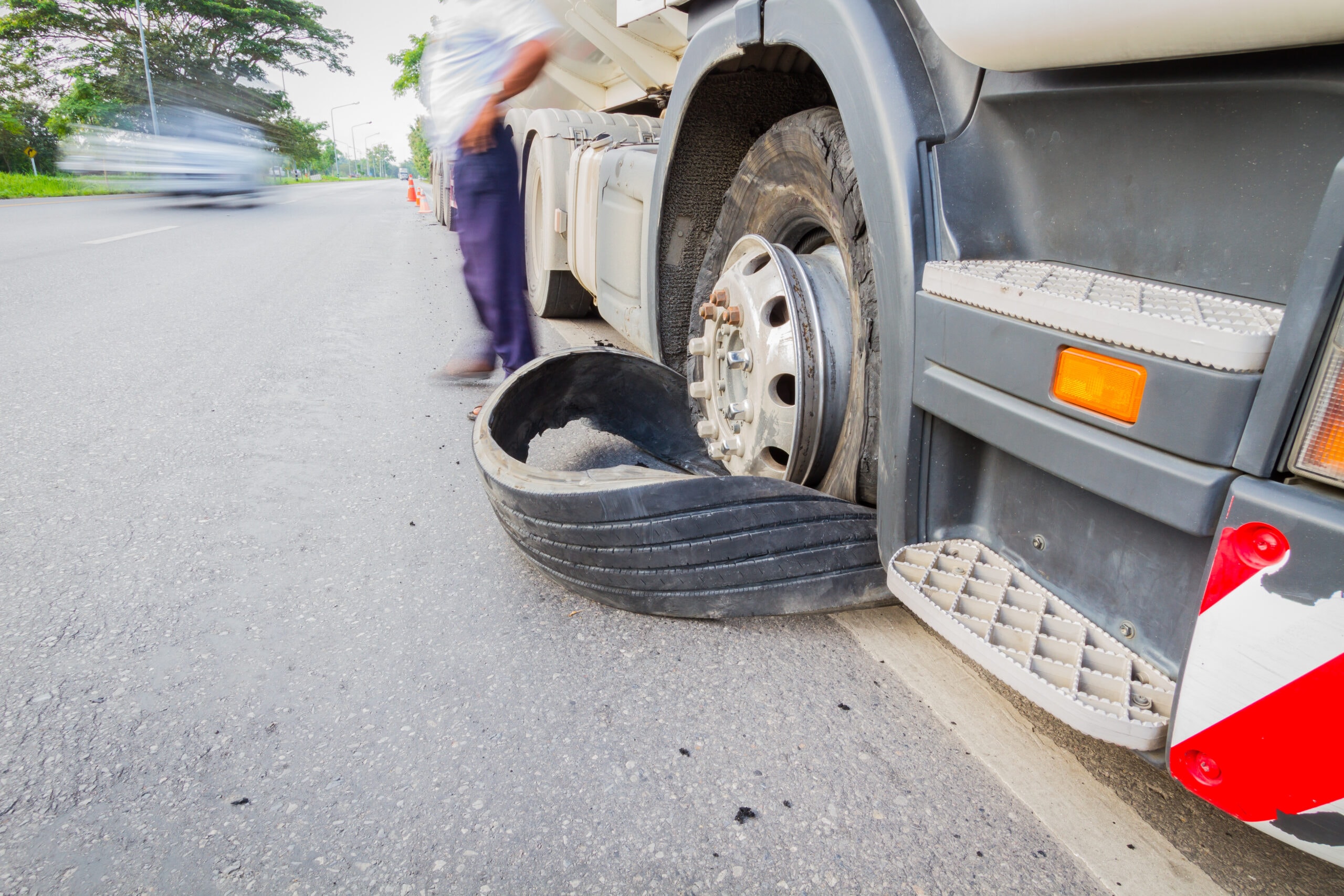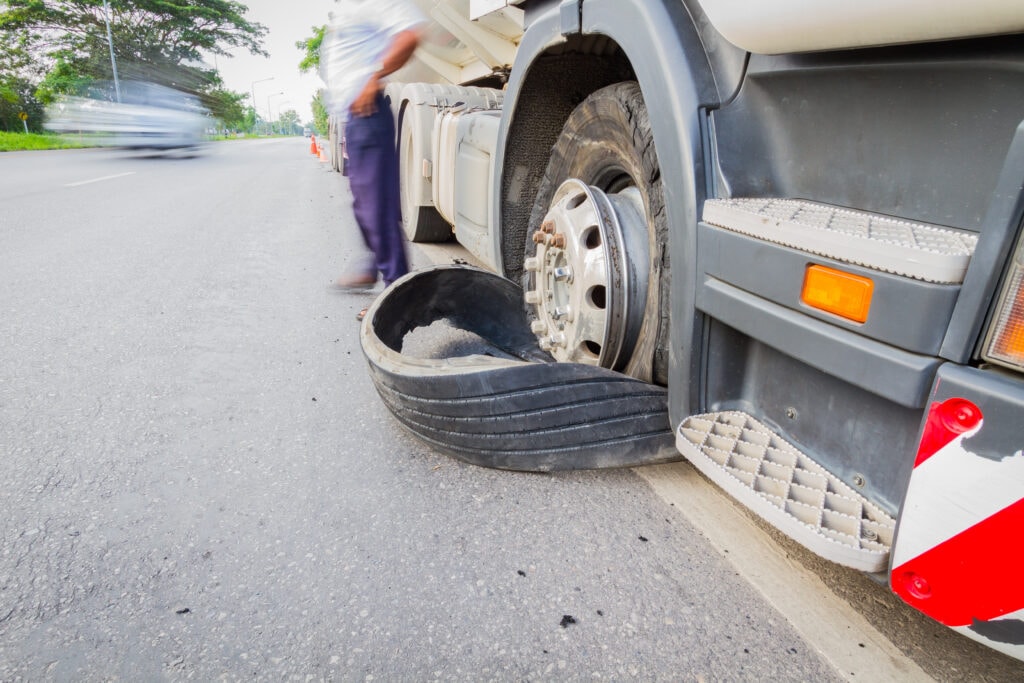 Why Do Tires Blow Out More in the Summer?
Rubber is an incredibly strong material, but it has its limits. A tire temperature of about 200 degrees or higher can cause a tire to deteriorate. As it falls apart, the various parts of the tire have to compensate, creating more heat and eventually leading to a blowout.
Of course, no summer day is reaching 200 degrees, so what's the real culprit here? Underinflation.
Up to 90 percent of tire failures are directly attributable to underinflation, according to Tire Business. A tire with 70 psi has 18 percent more rubber on the road than a tire with 100 psi. That excess rubber on the road generates excess friction. Additionally, the tire walls will flex more to grip the asphalt. All of this increased friction drives up your tires' temperatures. 
Summer heat only makes things worse. On a 90-degree day, highways can heat up to 150 degrees. That can easily be enough to push an underinflated tire over the edge. And if you aren't monitoring your tires properly, you may not realize what's happening until you see smoke.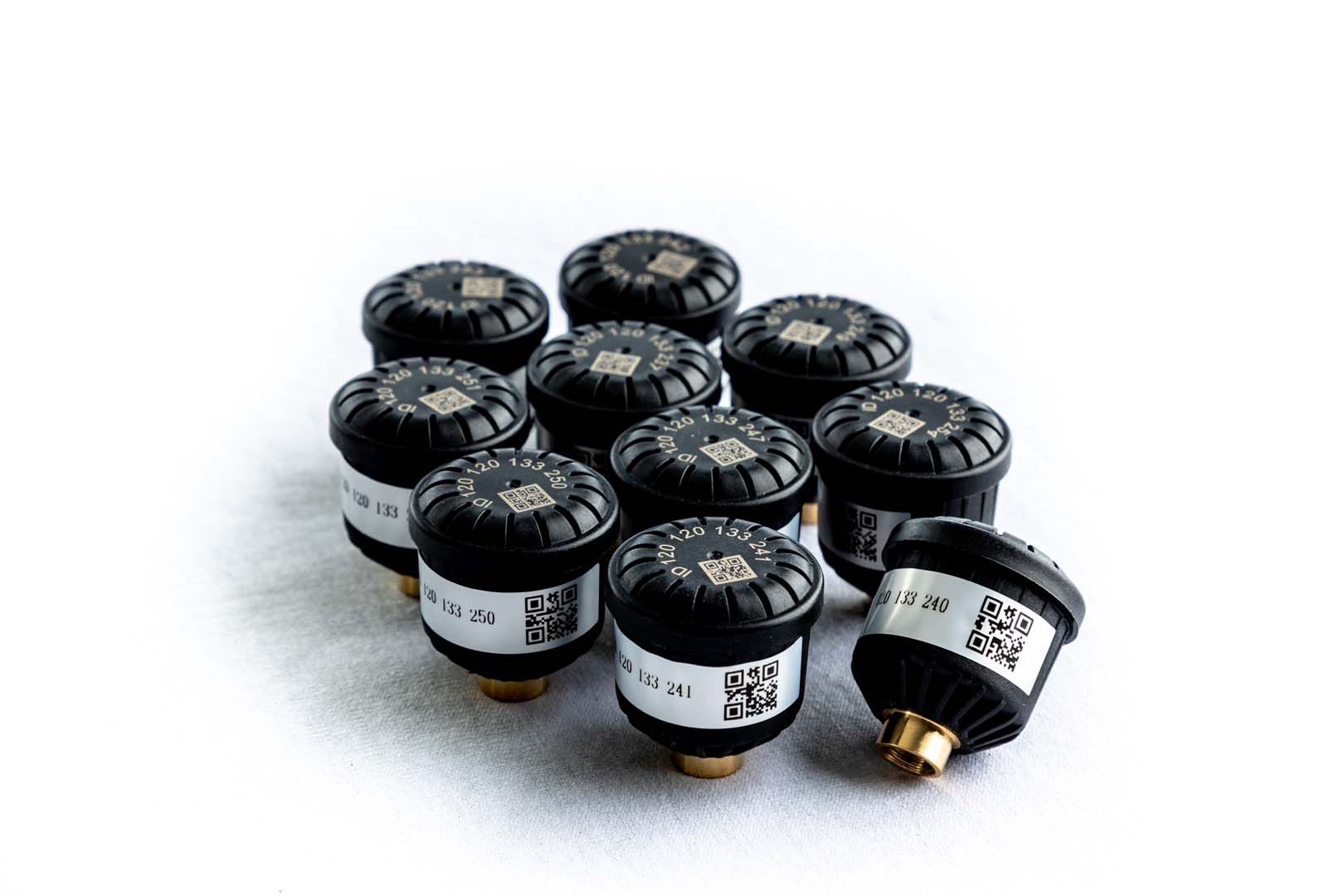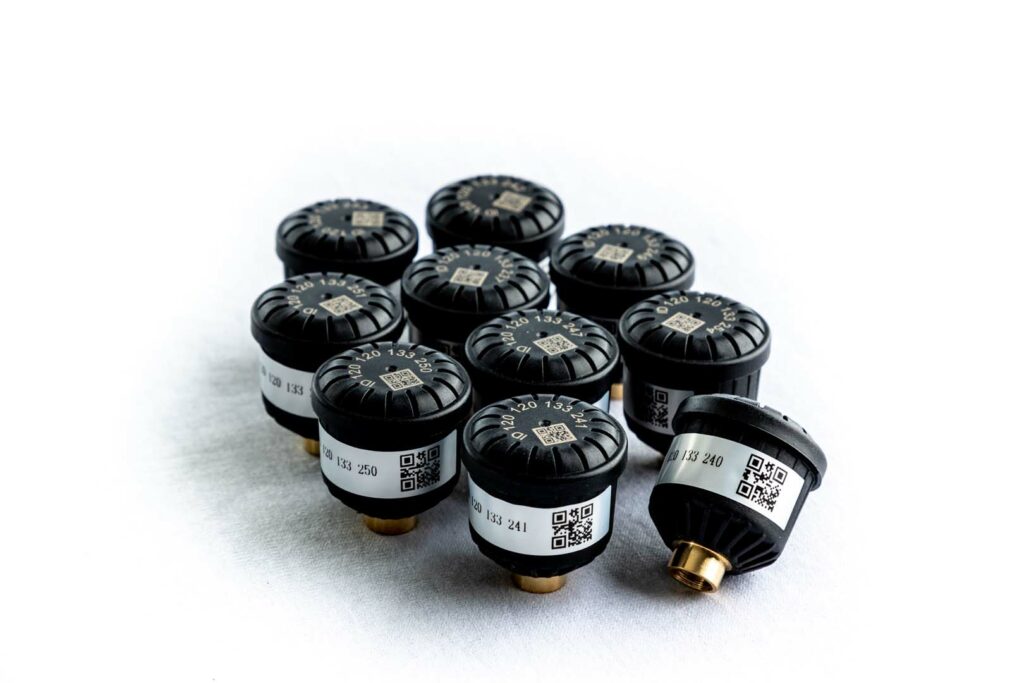 Protecting Your Tires from High Temperatures
The most important way to protect your tires this summer is to invest in a tire monitoring system. These systems can tell you the air pressure and temperature of each tire at the push of a button.
Doran 360TM TPMS uses wireless sensors on each valve stem to send data to an in-cab display. Our patented "Green Means GoodTM" indicator light gives you at-a-glance confirmation that all is well. You can also see individual data so you always know the exact location of any problems.
Of course, there are always surprises on the road. That's why we equip our systems with audible and visual alarms.
We have three levels of warnings when your tire pressure drops. Levels I and II are tied to your programmed baseline tire pressure, activating when pressure drops 12.5% and 25% respectively. You'll also get a FastLeakTM warning if pressure drops 4.5 psi within 16 seconds.
All of these data points should help keep your tires cool through the summer. But just in case, our high temperature alarm activates when a tire reaches 175 degrees. This gives you time to safely pull over and investigate what's making your tire overheat.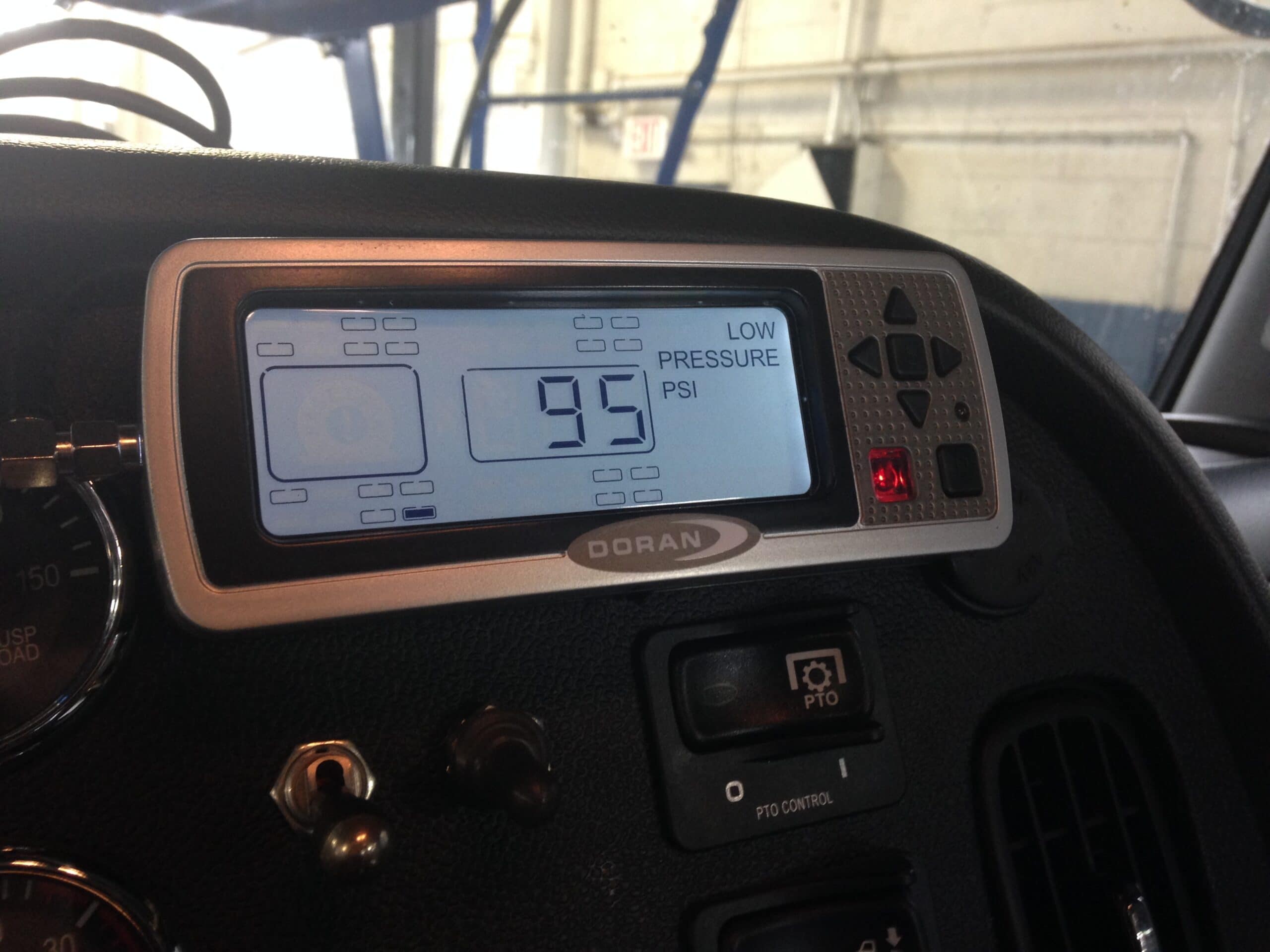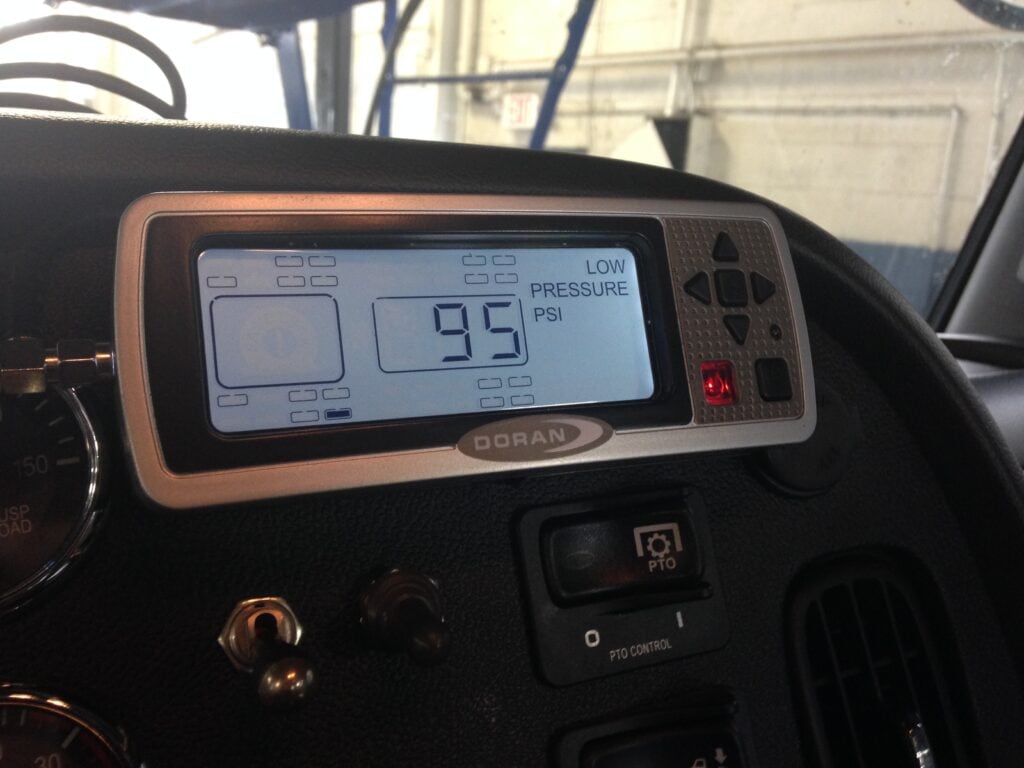 Skip Blowout Season with Doran TPMS
Blowout Season lasts from mid-May through October. If you and your fleet would like to skip it this year, we'd love to help. We've put 1 million tire sensors out on the road, protecting truckers like you and the drivers around them.
Send us a message to discover the best TPMS options for your fleet. Together, we'll make your tires last longer and help every driver get home safe.
The last few years have been brutal for anyone looking to buy tires. In 2021, we saw a historic number of price increases. The average manufacturer raised prices three or four times, resulting in a total 20% increase.
Manufacturers predicted that prices would keep going up in 2022. And halfway through the second quarter, there's no question that they were right. Companies started raising prices in January — and they're still going.

With inflation also at a historic high, it would be easy to blame this problem on the economy. Unfortunately, the situation is far more complicated — and it will take time to recover.
Why Tire Prices Keep Rising
To understand rising tire prices, you have to start with the raw materials. Most of the world's rubber comes from rubber trees in Southeast Asia. But in recent years, a leaf fungus has been attacking and killing these trees.
Further, plantation owners haven't been replacing all the lost trees. That's because rubber prices have been quite low in recent years. So low, in fact, that in 2019, Thailand's government approved a plan to cut rubber plantations by 21%. The hope was to reduce supply and increase rubber's value by more than threefold. Now that demand has risen, it will take time to meet that need.
Meanwhile, congestion at global ports continues to slow the supply chain. Due to COVID-19 protocols, China has been sending fewer ships. That's given western U.S. ports time to catch up on receiving containers. However, they'll likely lose that ground as soon as China begins sending their backlog of shipments.
Add to this wage growth (that still hasn't caught up with inflation), increased transportation costs, driver shortages, and plant shutdowns. It quickly becomes clear why tire manufacturers have to keep raising their prices. But that leaves fleet managers with a big question: How do we survive?
Surviving Price Hikes with Good Maintenance
With ever-rising tire prices, fleets have no choice but to make their tires last as long as possible. But this can be a dangerous proposition if not done right.
Worn down tires are more likely to hydroplane on wet roads, overheat or have a blowout. They make handling more difficult and slow your stopping time. Because of this, making your tires last can't be about simply pushing them to their limits. Instead, you need to take steps to actually extend their useful lives.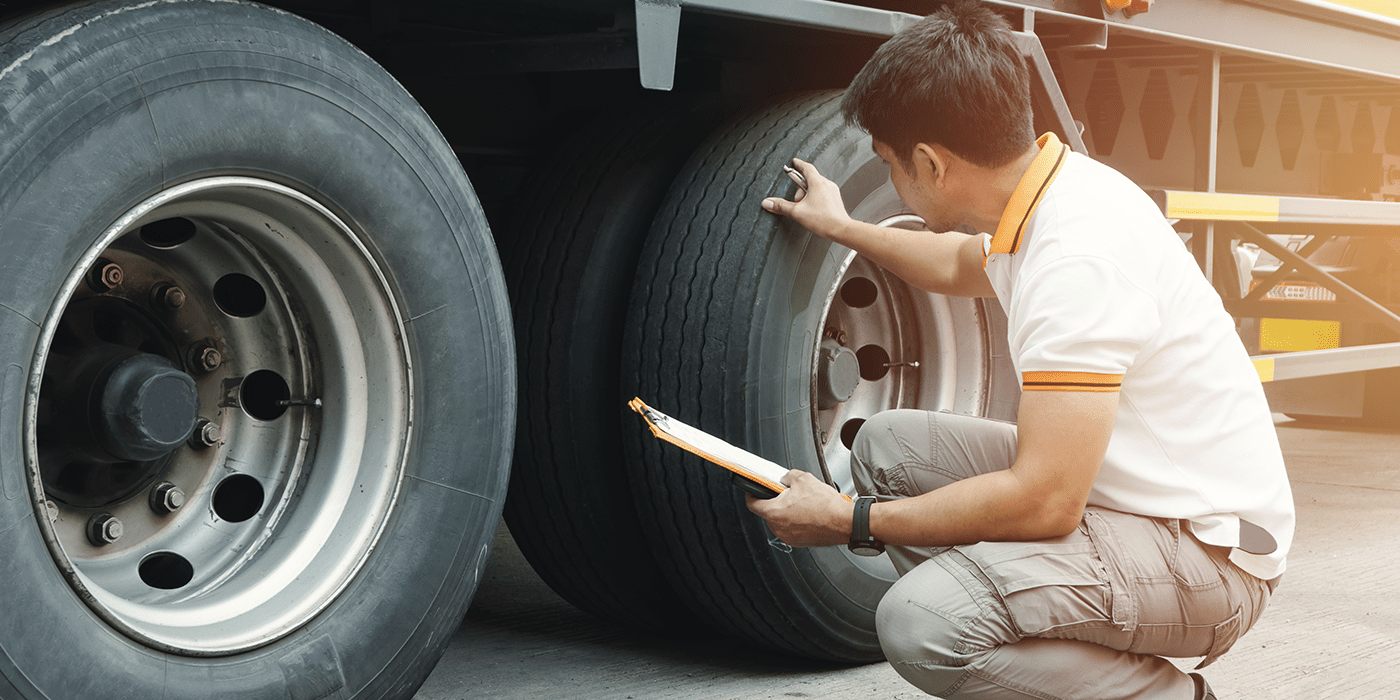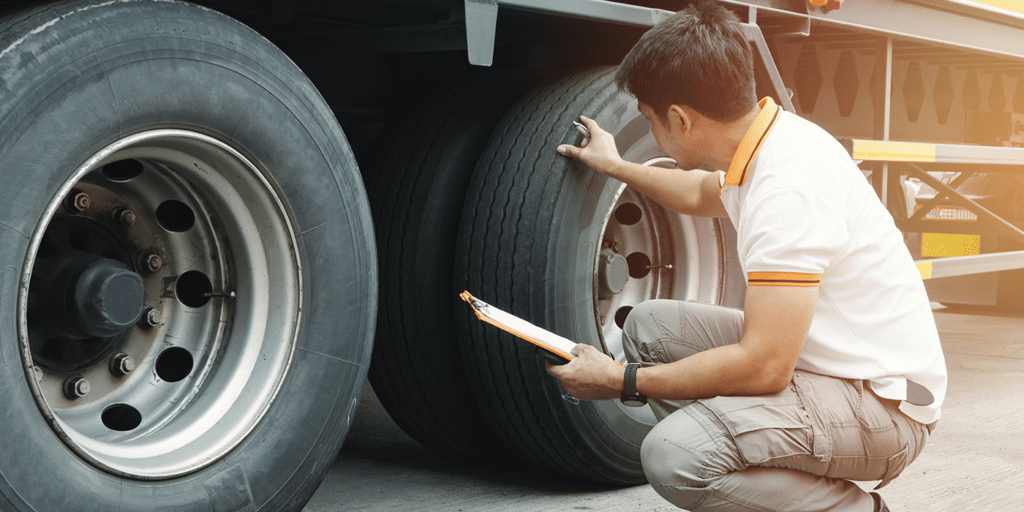 Inspect Tires Regularly
Small damages can easily turn into dangerous blowouts if left unchecked. Make sure your drivers are inspecting their tires for debris, cuts, and any unusual wear and tear. The investment to fix these problems before they grow is well worth your time and money.
Rotate and Align Tires
Prevent your tires from wearing unevenly by regularly rotating and aligning your tires. Most tires should be rotated every 5,000 to 8,000 miles, though recommendations may vary by manufacturer.
Practice Safe Driving
Stopping suddenly, speeding, or accelerating quickly are all dangerous practices for commercial vehicles. But they also cause excessive wear and tear on your tires. Make sure to promote safe driving practices and talk with drivers whose tires seem to have excessive wear and tear.
Invest in a Quality Tire Monitoring System
Tires are designed to work at an optimal air pressure. Improper inflation creates uneven treadwear. It increases friction, making your tires more likely to overheat and cause a blowout. Underinflation can even make your tires more vulnerable to sharp debris because an underinflated tire is a weak tire. If you want to extend the life of your tires, a tire monitoring system is a must.
Doran 360TM TPMS is a great example of what tire monitoring can do for you. It begins with our wireless sensors. These sensors are installed on every tire's valve stem and continuously transmit pressure and temperature data. An in-cab monitor receives the data so drivers have constant access to real-time pressure readings.
Our "Green Means GoodTM" indicator light lets drivers see at a glance that all tires are operating at their optimal pressures. At the press of a button, drivers can also see individual data for each tire position.
Of course, we know that emergencies sometimes happen. That's why Doran 360TM TPMS has built-in alarms to warn of fast leaks, low tire pressure, and high temperatures. When a driver hears the alarm, they know to quickly pull over to safety, helping to potentially save the tire — and themselves.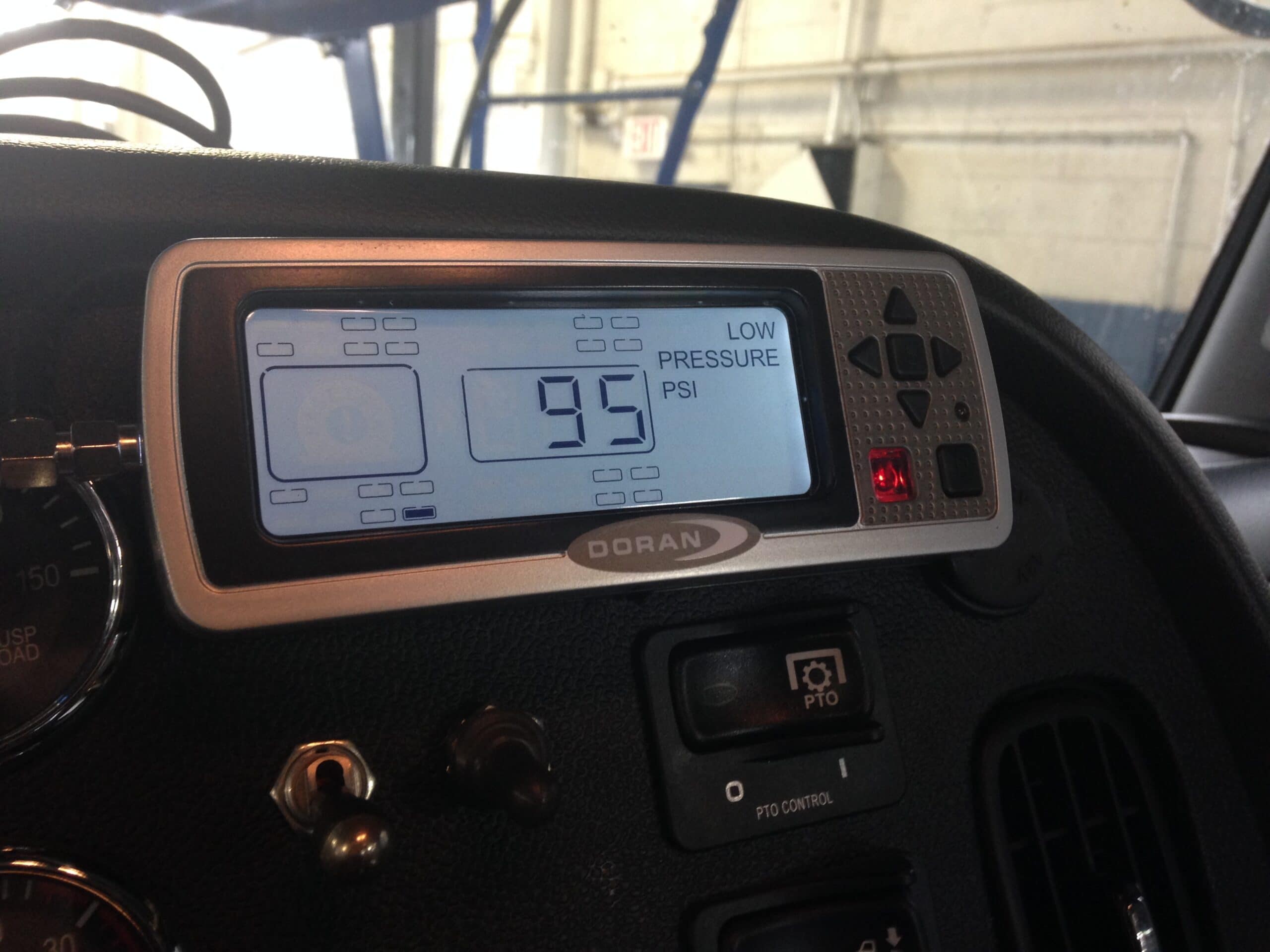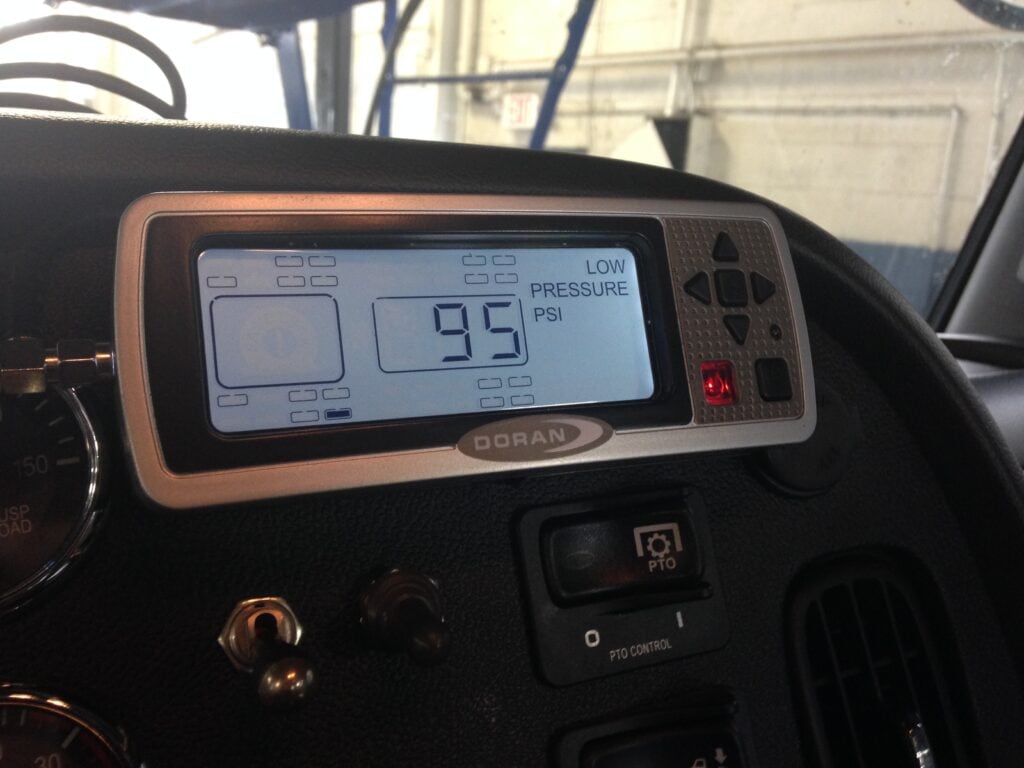 Equip Your Fleet with Doran TPMS
With tire prices still rising, now is the time to invest in your tires' long-term care. Doran has solutions for fleets on the highway, in mines, on farmland and more. We'd love to hear about your unique needs and discuss solutions that will work for you. Send us a message or call today!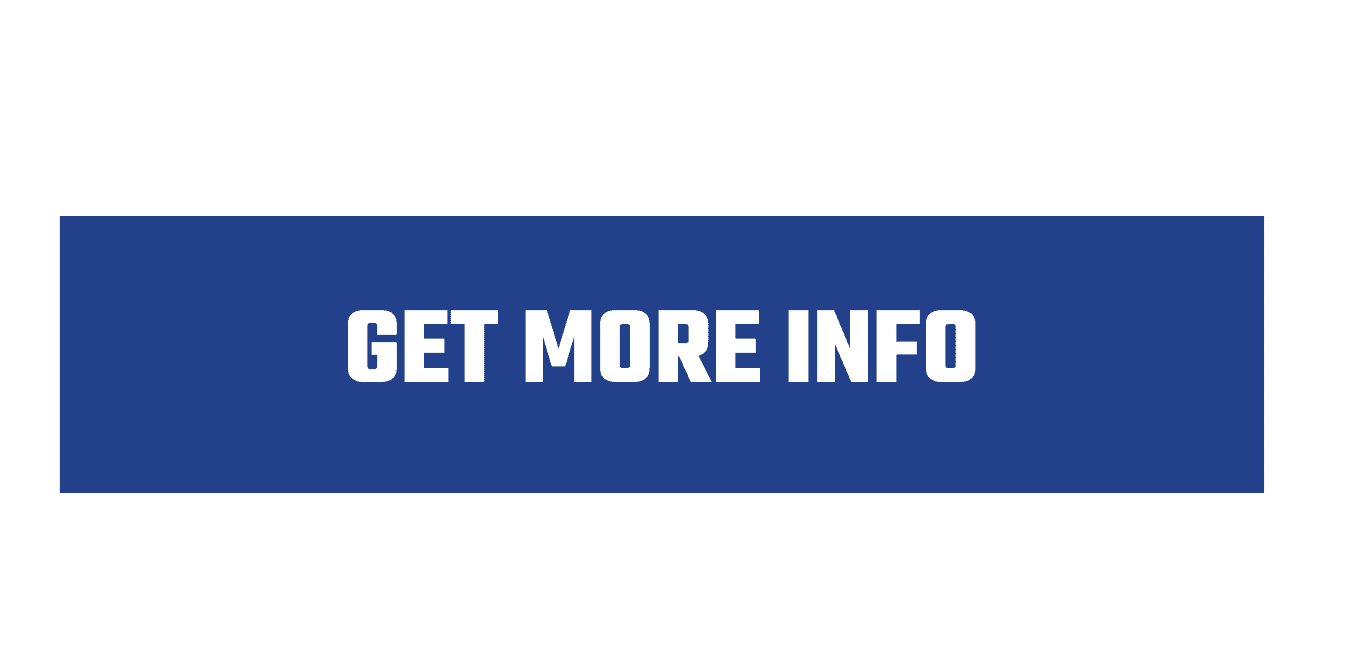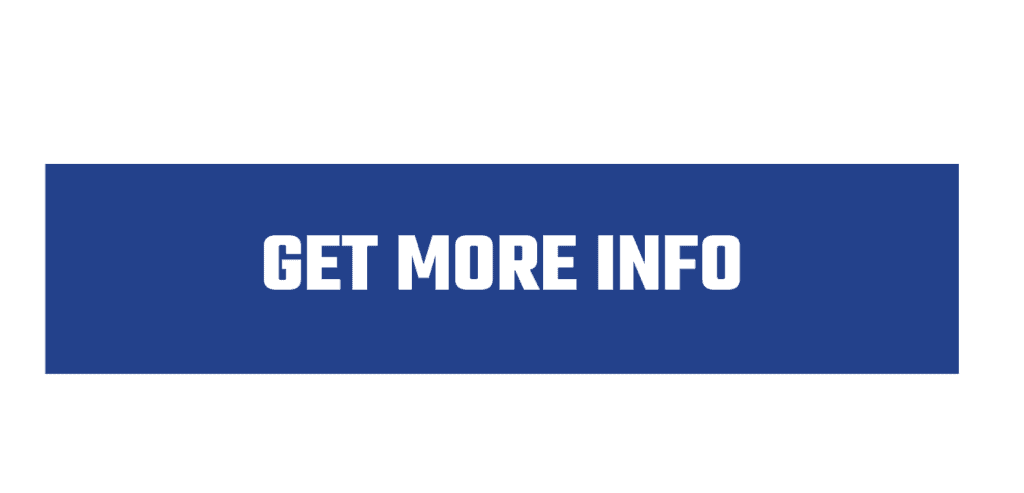 Are your tires ready for inspection? If not, you could face some hefty fees this month.
The Commercial Vehicle Safety Alliance has announced that its 2022 International Roadcheck will be held May 17 to 19. And this year, they're focusing on wheel ends.
CVSA is a nonprofit created to improve commercial vehicle safety throughout North America. In the U.S, CVSA works with the Federal Motor Carrier Safety Administration by advocating for and enforcing FMCSA regulations.
The International Roadcheck is a 72-hour period of high-volume CSVA inspections throughout Canada, Mexico, and the United States. Trucks or drivers found to be in violation could be ticketed or pulled out of operation.
Those citations will be extra painful this year due to inflation. The FMCSA adjusts its fines for inflation every year. However, this will be the highest jump since the agency's founding in 2000.
Before you head out this month, it's time to take a good look at your tires.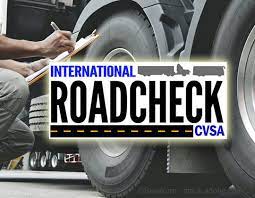 What to Expect at the International Roadcheck
CVSA inspectors will be checking 15 different wheel end items. You can see the full list here. Of these items, nine relate to your tires:
Tire and Valve Stem Leaks: FMCSA regulations state that no motor vehicle may operate on a tire with an audible leak.
Proper Inflation, Cuts and Bulges: Inspectors will look at all tires, including the inside tire on a dual set. Proper inflation is vital for carrying a truck's full load and for preventing damage, both internal and external. Cuts and bulges are signs that that damage has already occurred.
Regrooved Tires on Steering Axle: Regrooved tires can't be used on the steer axle of a truck if the tire load capacity is equal to or greater than 4,920 pounds.
Tire Tread and Major Tread Groove Depth: According to FMCSA regulations, front tires require a tread groove pattern depth of at least 4/32 of an inch when measured at any point on a major tread groove. Other tires must have a depth of at least 2/32. CVSA has more lenient regulations here, requiring depths of 2/32 and 1/32 respectively. If your violations are minimal, this may help you. However, if CVSA pulls your truck out of operation, you should expect to face FMCSA fines as well.
Improper Repairs: Improper repairs include rubber-coated cord or cured rubber plugs in your tire's sidewall.
Exposed Fabric or Cord: A tire isn't long for this world when its body ply or belt material starts to show through its tread or sidewall.
Tire Contact: Tire contact with each other or any other part of the vehicle can wear on tires, create cuts along the sidewall or damage other parts of the vehicle. It can also make the vehicle more difficult to steer.
Marking on a Tire that Exclude its use on a Steering Axle: Inspectors will look for tires labeled "Not for Highway Use" or other markings that exclude a tire's use on a steering axle.
Debris Between Tires: Solid items lodged between a set of dual tires can cause damage to the interior sidewalls.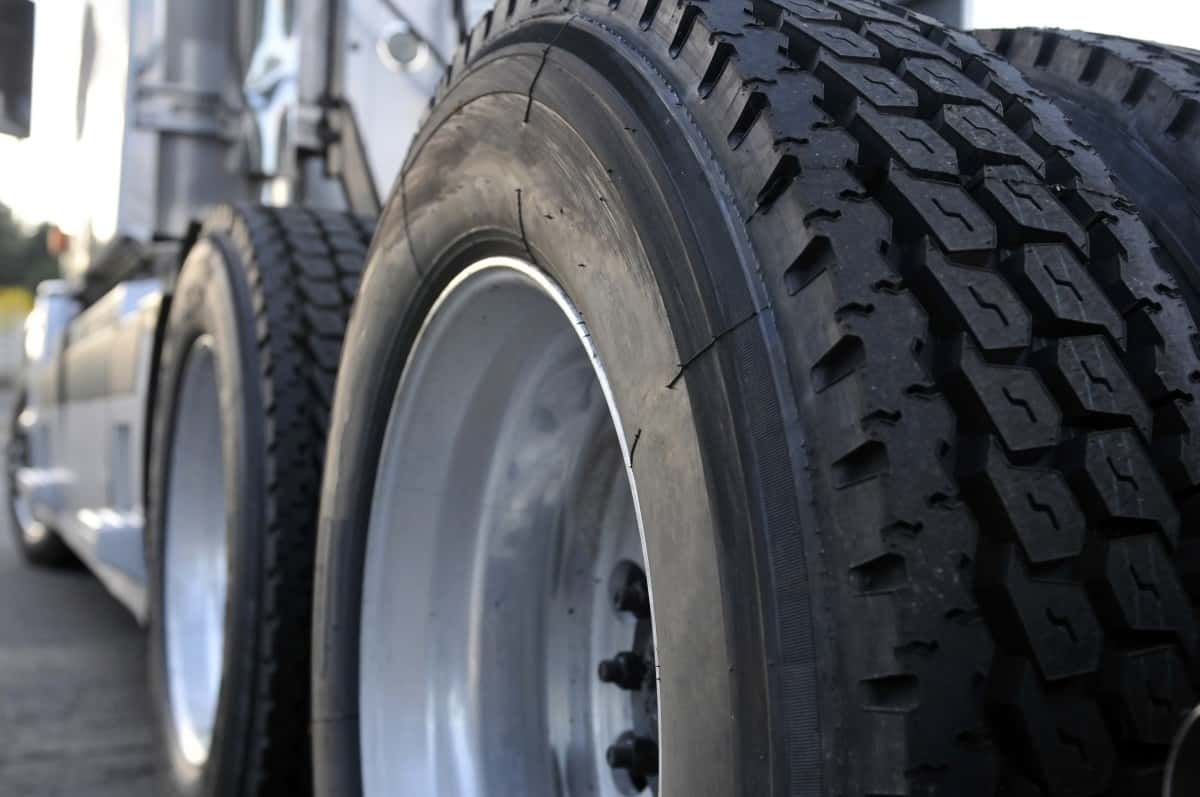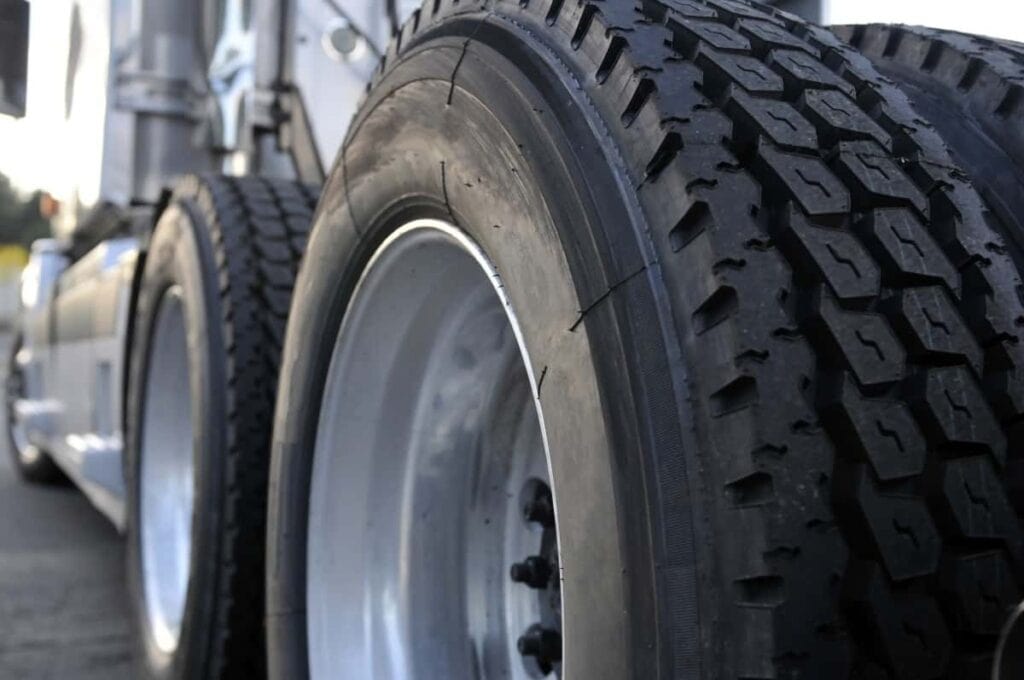 A Solid TPMS Keeps You Moving
If you want to avoid fees or being pulled out of operation, you must spot any issues before a CSVA inspector does. One of the best ways to do that is by installing a quality TPMS.
The Doran 360TM TPMS continuously monitors tire pressure and temperature data. Wireless sensors are installed on every valve stem and communicate with an in-cab display.
Our "Green Means GoodTM" at-a-glance indicator light gives drivers confirmation that all tires are properly inflated. Drivers can also see each tire position's pressure at the push of a button. And in case of emergencies, our system has alerts for low pressure, high temperature and fast-leak events.
But a good TPMS isn't just about spotting immediate issues like leaks or low pressure. It's about preventing long-term damage, too.
Underinflated tires create excess friction. That increases wear on your tires, which leads to tread separation and internal breakdowns and even blowouts. Doran 360TM TPMS alerts you to low pressure as it's happening so you can safely pull off and refill your tires.
A variety of issues can lead to high tire temperatures at the wheel end. Doran 360TM TPMS provides an early notice before tires reach critical temperatures that can cause tire fires. With localized data, it's easy to find and fix problem areas.
Pass Your CSVA Inspection with Doran TPMS
We'd love to help you get your trucks ready for every CSVA inspection you have throughout the year. Send us a message to learn more about Doran's TPMS solutions today!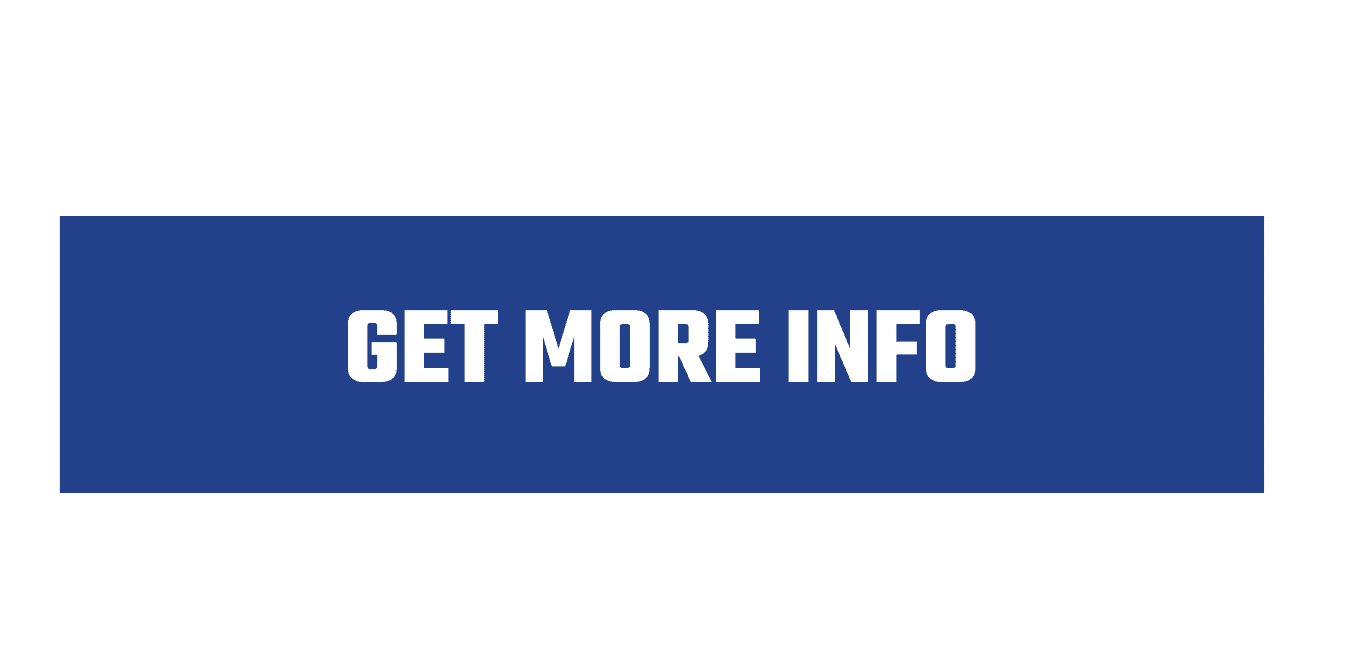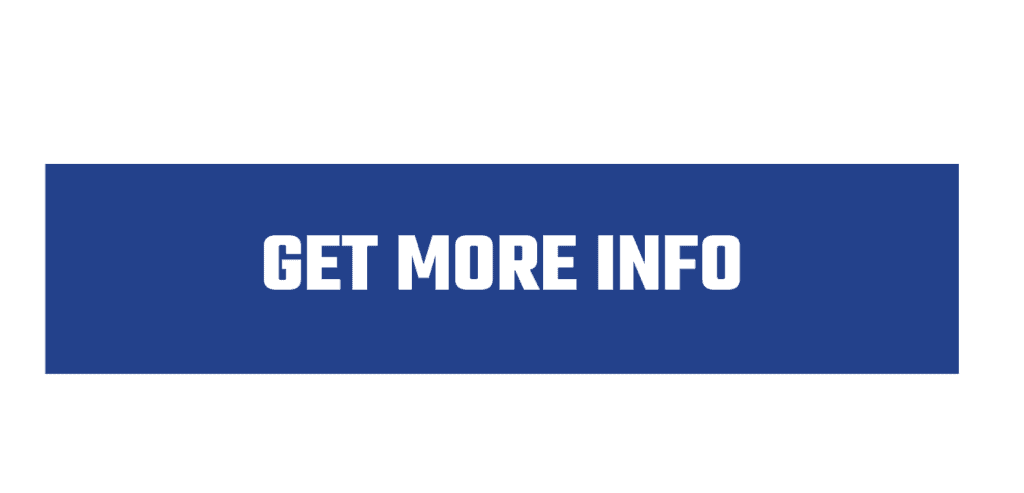 Stability is never more vital than when you're hauling fuel. Drivers are commissioned to deliver as much fuel as they can, as quickly as possible. At the same time, drivers can't rush to their destinations.
Sloshing liquid and underinflated tires can easily throw tankers off balance and cause rollovers. Rollovers and other tanker accidents can cause deadly explosions.
These special needs have led many fuel and petroleum fleets to invest in wide-base single tires, like the Michelin X One or Goodyear's Fuel Max line.
Wide-base single tires increase stability by extending the vehicle's track width. They weigh significantly less (saving up to 1,410 pounds), which means tankers can deliver more fuel with every trip. They reduce rolling resistance, which improves fuel efficiency. And the valves are easy to access, which makes maintenance simpler.
Unfortunately, these tires do come with challenges. To get their full benefits, fleets must pay special attention to tire pressure and temperature. As we'll see, a tire monitoring system can be invaluable in this effort.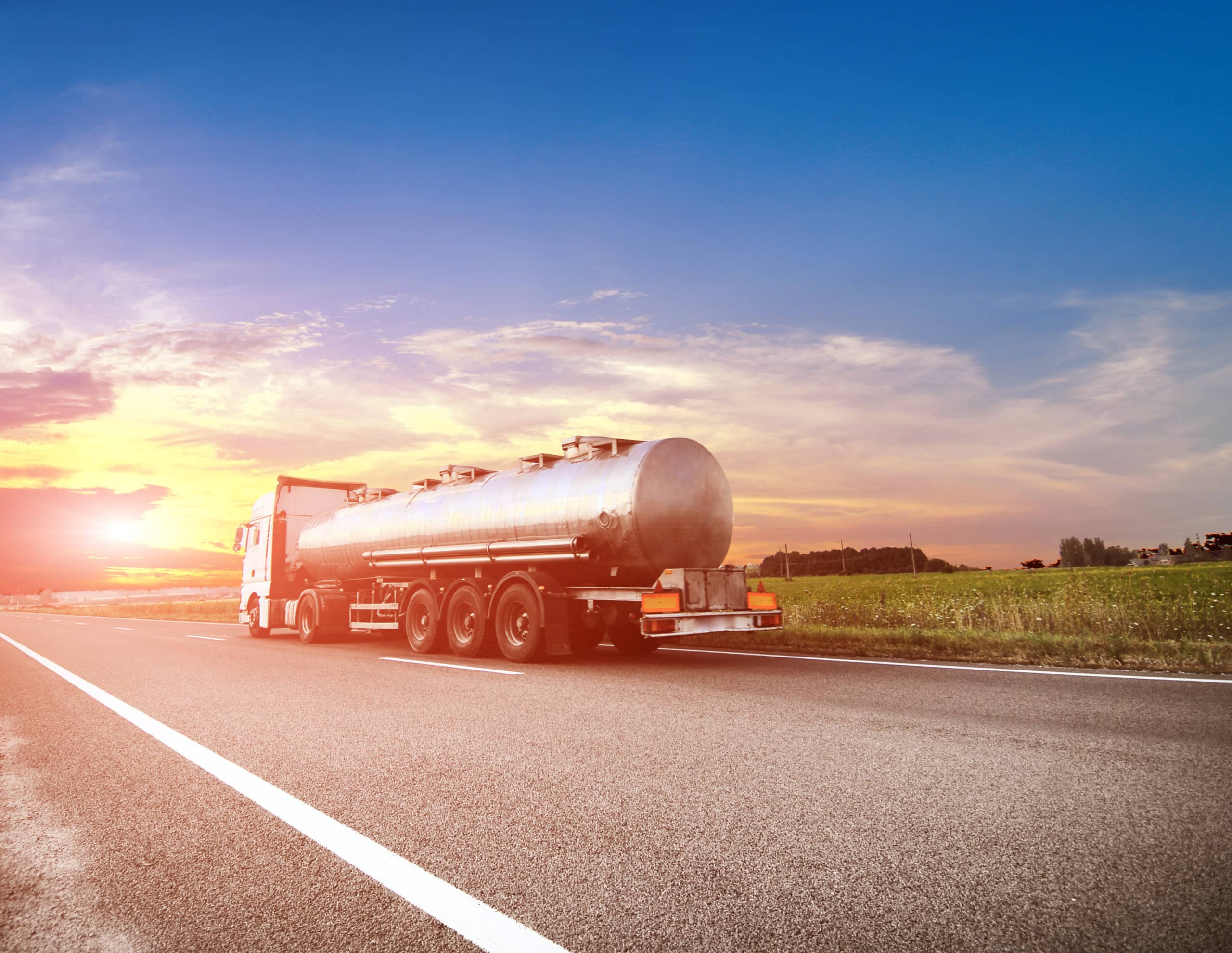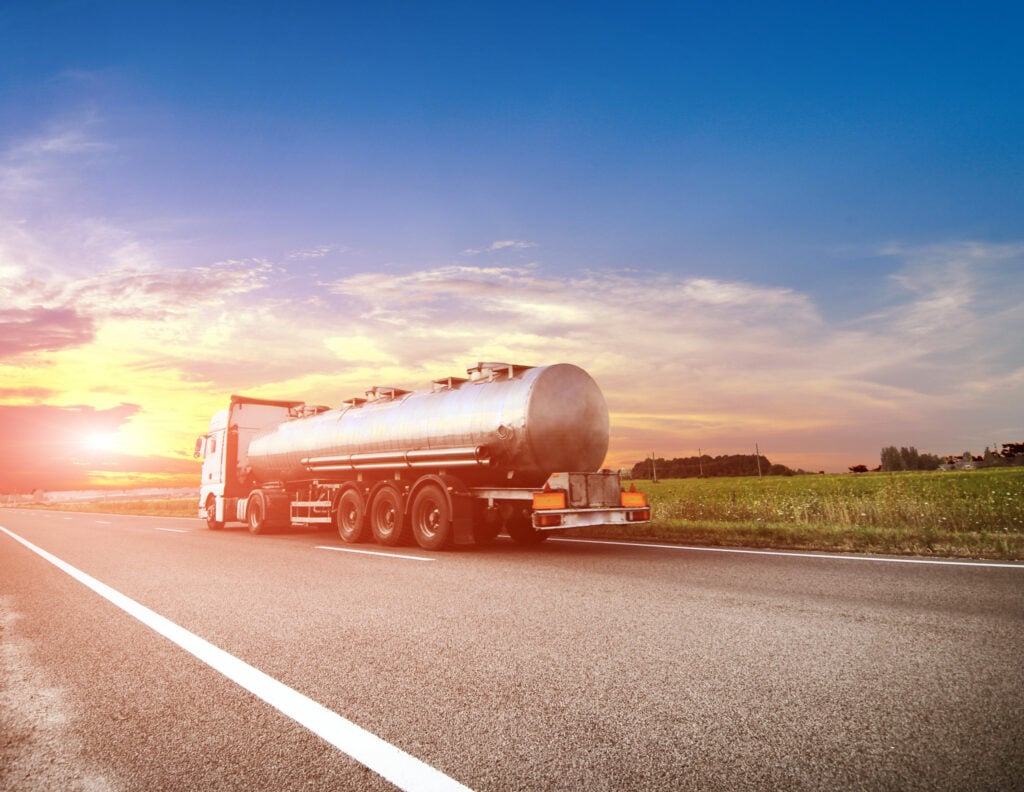 Challenges of Wide-Base Single Tires
Trucking Info reports that wide-base tires seem more sensitive to incorrect inflation. Over-inflation can damage any tire, but single tires may be more likely to have their shape distorted by using inflation pressures higher than the manufacturer's recommendation.. On the other hand, under-inflation is likely to cause high-heat events and blowouts.
Wide-base tires also increase high temperature concerns. They tend to generate more heat because each single tire is doing the work of two dual tires. As tires heat up, they fall apart, causing dangerous blowouts and tire fires. Once a tire ignites, it can set the entire tanker ablaze.
Faced with a blowout, many dual-tire drivers will depend on the second tire so they can limp to a mechanic. This practice is illegal, but driving on wide-base tires takes away the option regardless. A blown-out wide-base tire will bring any driver to a complete standstill.
The backdrop to these concerns is, of course, that wide-base tires cost much more than dual tires. Fleet managers want to know that if they make the big investment, it will have time to pay off. Fortunately, many of these challenges can be helped with a quality tire monitoring system.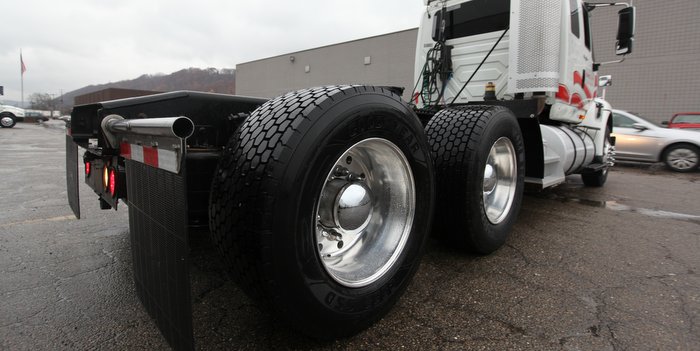 Increase Safety and Stability with Doran TPMS
Fleets that thrive on wide-base tires are those that are diligent in their maintenance efforts. As noted in Fleet Equipment Magazine, maintenance can be simpler with wide-base tires because drivers have better access to every tire valve stem. A tire monitoring system can make it even simpler.
The Doran 360TM TPMS provides continuous tire pressure and temperature data. Fleets simply install our in-cab monitor, program each wheel position with its baseline tire pressure and screw wireless sensors onto each valve stem. From there, drivers can get accurate data simply by turning on the ignition.
Our in-cab LCD display has a patented "Green Means GoodTM" indicator light that provides at-a-glance confirmation that all tires are properly inflated. At any time, the driver can see specific data for each tire at the press of a button. The Doran 360TM is equipped with real-time alerts, warning drivers of rapid deflation, low pressure, high pressure, and high temperatures.
Our system also provides greater driver accountability to protect your investment. A date/time stamp for each pressure alarm is stored in the monitor. And the monitor can be locked to prevent accidental reprogramming or tampering with the programmed settings.
All of this comes at a price lower than that of one wide-base tire. That means that if you save even one tire, the entire system pays for itself
Haul More, Safely
At Doran, we understand that every investment you make affects your bottom line. Our systems help you protect your equipment and increase revenue so your fleet can keep growing. Give us a call at 866-816-7233, and we'll help you outfit your fleet today.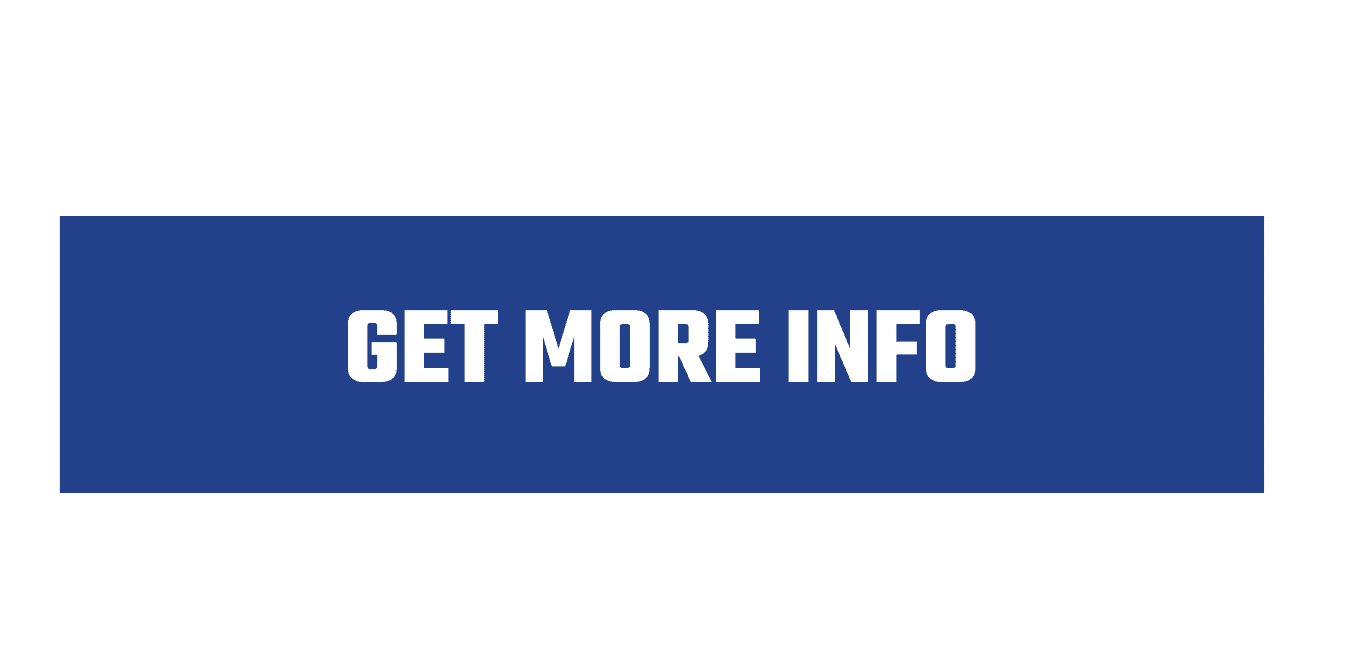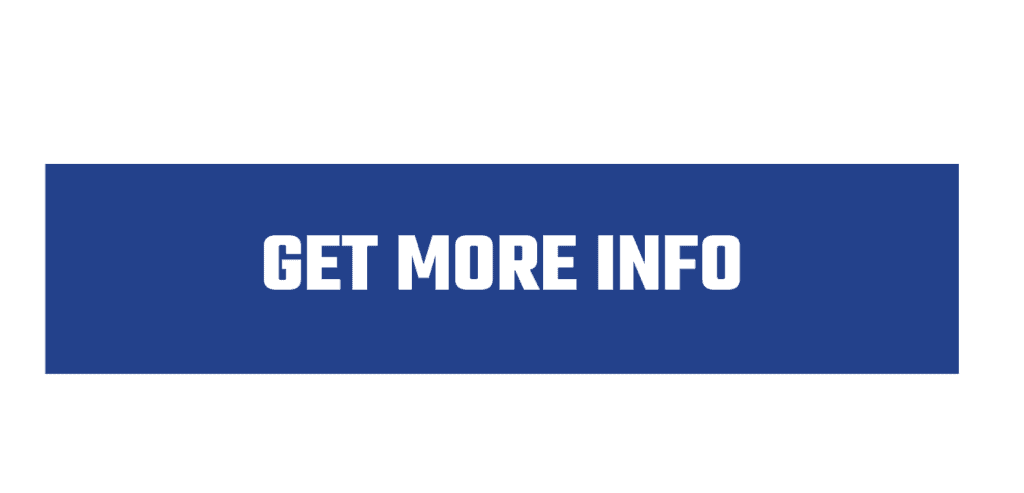 What would we do if America was short 160,000 drivers? Today, most news outlets are talking about an 80,000-driver shortage. But the American Trucking Association warns that this shortage could double in the next decade.
There are multiple reasons for the shortage, but a big one is age. A 2021 study showed that 57% of drivers are over the age of 45. Nearly 25% will be eligible for retirement in the next 10 years.
Part of this may have to do with the age at which drivers can start working. Most states grant commercial driver's licenses to individuals who are at least 18 years old. But there is one major stipulation: Drivers under 21 aren't allowed to drive across state lines.
Because of this, many young would-be drivers decide to pursue other trades. And thus, many drivers don't start until their 30s, 40s, and 50s, when they're looking to change careers.
But as baby boomers retire, many fleets are doing their best to attract young drivers. The hope is that by hiring them for intrastate hauls, fleets can win their loyalty to the job.
High schools are opening truck driving courses that give students industry experience. In the past, some fleets have paid for drivers' CDL training, with the promise of several years' work. Now, they're dropping the work requirement.
The federal government has also joined the push to get younger drivers on the road with the Infrastructure Investment and Jobs Act of 2021. This law requires the Federal Motor Carrier Safety Administration (FMCSA) to establish a pilot program for drivers under age 21. For the first time, it would allow these young drivers to operate commercial motor vehicles across state lines.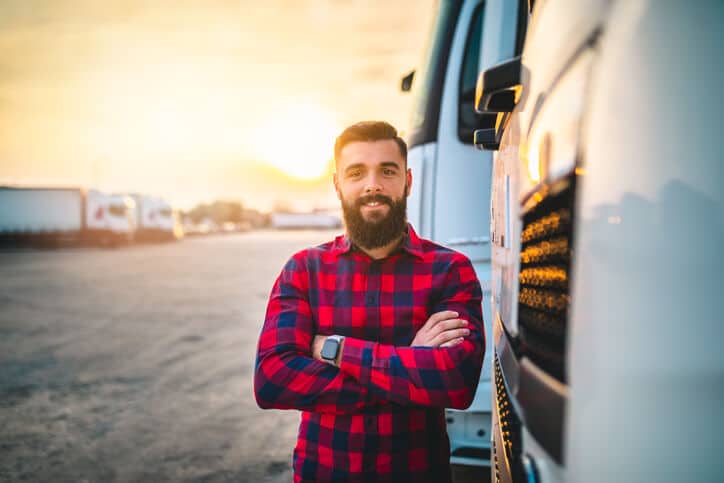 Fleet Concerns for Young Drivers
The FMCSA's Safe Driver Apprenticeship Pilot Program (SDAP) is a three-year program. Young drivers with their CDL start with a probationary period of 120 hours on-duty, including at least 80 hours driving in a CMV. Another 280-hour probationary period follows.
During both of these periods, the young driver must be accompanied by an experienced driver. They also must demonstrate certain competencies.
There has been rigorous debate in the trucking industry about the merits of this program. The Insurance Institute for Highway Safety cited research indicating a 500% increase in injury crashes for truckers under age 21.
But SDAP requires trucks used in the program to have a variety of safety features. CMVs must have an automatic transmission, an active braking system, a forward-facing camera, and a governed speed of 65 miles per hour.
Fleet managers can further increase their young drivers' safety with a quality tire monitoring system.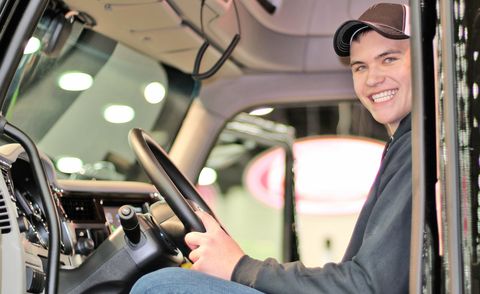 Support Young Drivers with a TPMS
Proper tire inflation is key to the safety of any driver. Improperly inflated tires lead to increased stopping distances and reduced handling capabilities. Having to stop suddenly on underinflated tires can put even a seasoned driver at risk. But the risks don't stop there.
When a tire is underinflated, it can't adequately support a trailer's load. The added friction creates dangerous heat, softening the rubber until it causes a dangerous blowout. In other cases, the heat can be so great that the tire catches fire. While young drivers do need to be prepared for worst-case-scenarios, a quality tire monitoring system can protect them — and other drivers.
The Doran 360TM TPMS gives young drivers immediate access to vital tire data. Wireless sensors are mounted on every tire's valve stem. They continuously transmit data to an in-cab display, where drivers can see tire pressure and temperature data for every tire position at the push of a button. And our patented "Green Means GoodTM" at-a-glance indicator light gives drivers easy confirmation that all tires are properly inflated.
In case of an emergency, Doran's 360TM TPMS has built-in alarms to warn of fast leaks, low tire pressure, and high temperatures. By heeding the alarms, drivers can get themselves to safety and even save lives.
Our system also provides greater accountability for young drivers. A timestamp for each pressure alarm is stored in the monitor. And this data can be reviewed later by accompanying drivers or managers. The monitor can also be locked to prevent accidental reprogramming or tampering with the programmed settings.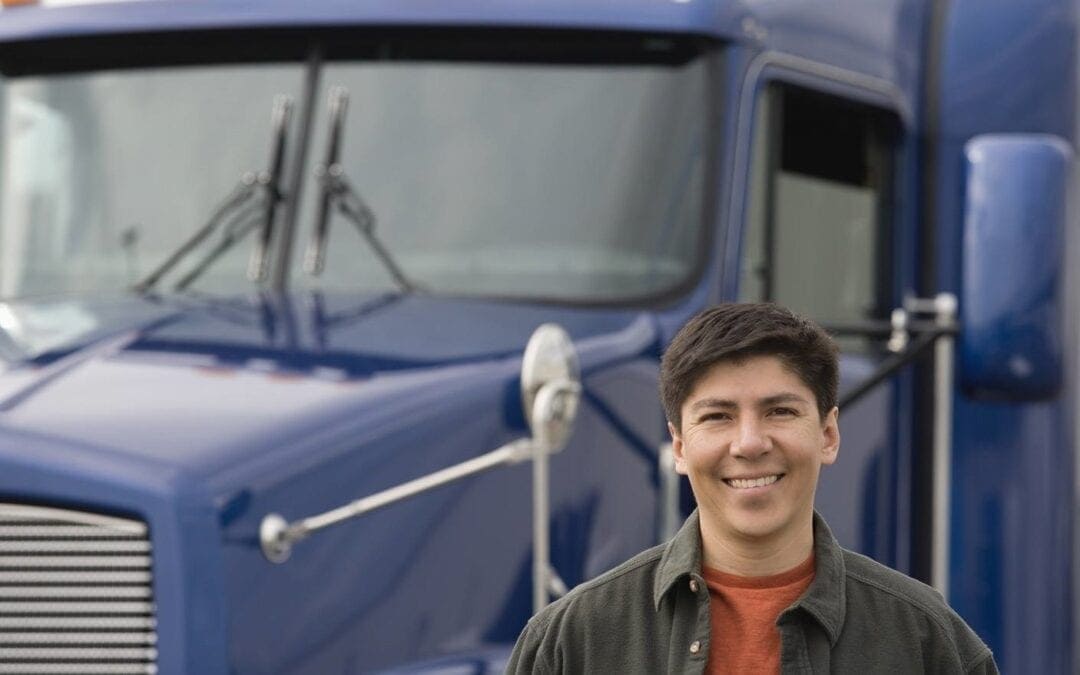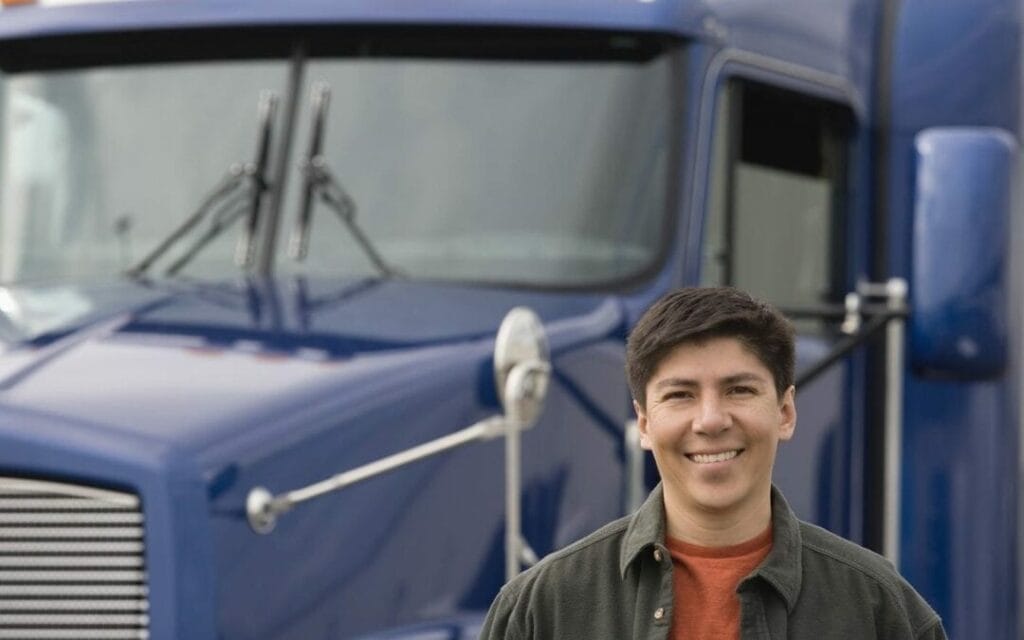 Create Safer Drivers from Day One
The Doran 360TM TPMS features are creating safer, more efficient drivers from day one. And as the driver age drops, it is more important than ever to set up new drivers for success.
We'd love to support you while you support your drivers. Give us a call to learn more about our tire monitoring systems and how they can benefit your fleet!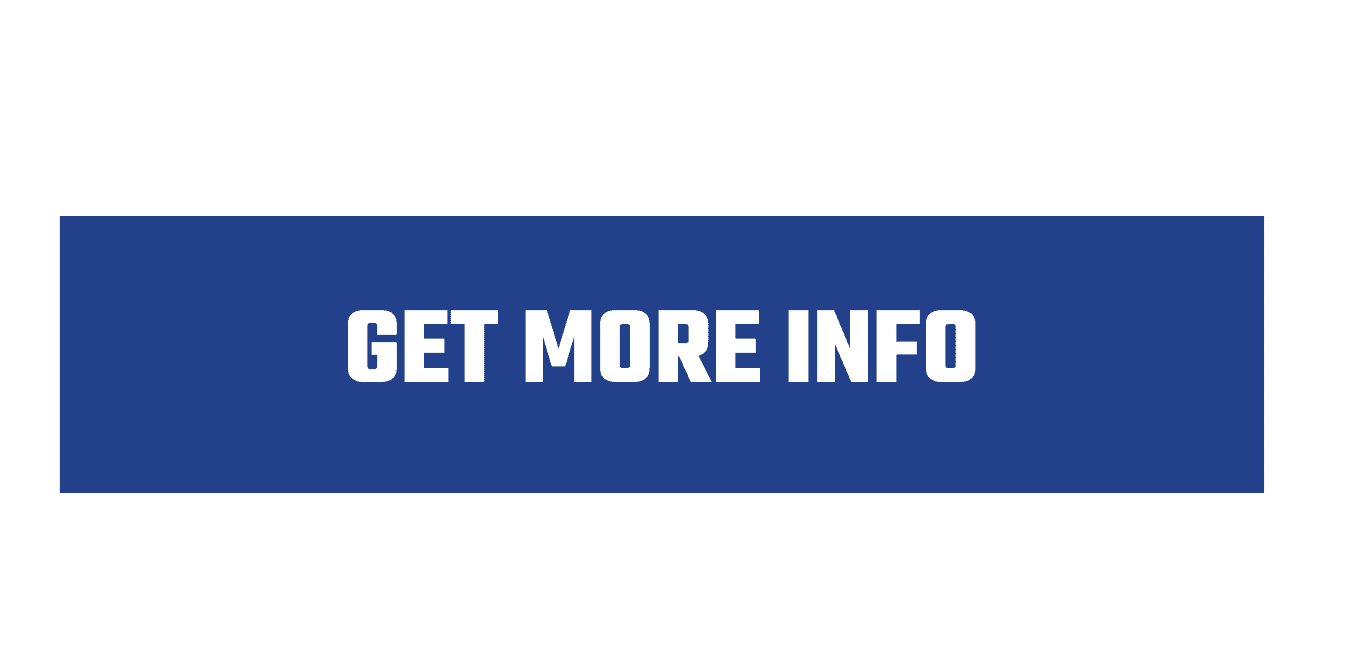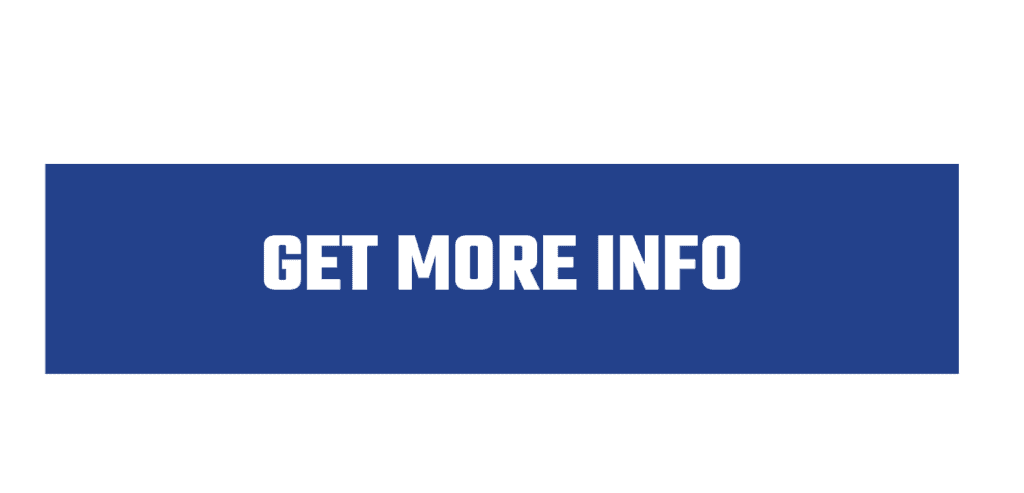 Produce season is getting into full swing. That means there's never been a more important time to be thinking about your refrigerated fleet's tires.
Produce season is one of the most profitable times for refrigerated (or "reefer") fleets. Starting in February, demand for refrigerated trailers surges as stores try to get seasonal produce on their shelves.
But like all reefer deliveries, shipping produce is a delicate, high-speed process. Produce has strict delivery deadlines for optimal freshness. The ripening process generates heat, which has to be mitigated with continual cooling. A series of delays — or even one major delay — can spoil your entire shipment.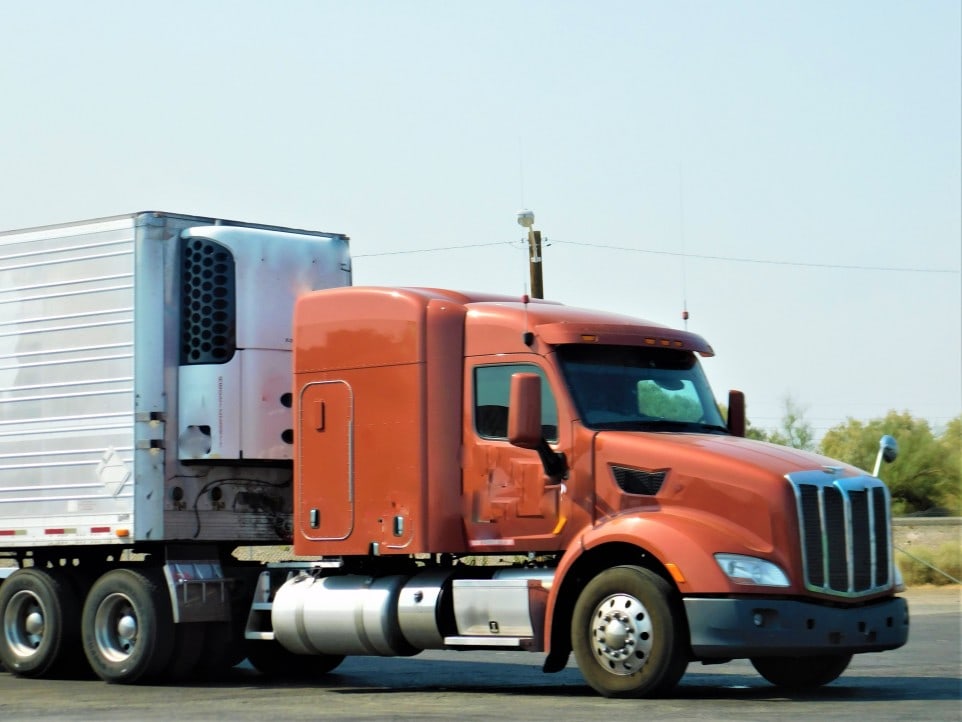 How Your Tires Threaten Refrigerated Deliveries
Reefer deliveries require attention to every detail. But many drivers miss one of the key factors they can control: tire pressure.
Improperly-inflated tires create drag, dramatically reducing fuel economy. Drivers compensate by making more fuel stops, losing precious time along the route. And it gets worse.
Both over- and underinflated tires create uneven tread wear, requiring more frequent tire changes. But an underinflated tire can be especially insidious. In these cases, the steel belt and polyester cords inside will rub against each other. Then, heat builds up until the rubber falls apart and the tire is destroyed in a blowout.
Not only are these situations dangerous, but they also create significant delays. With each stop for fuel or repairs, the driver must use more fuel to keep the refrigerated trailer cool. Meanwhile, there's a growing risk that the shipment will spoil and the fleet will have to eat the costs.
Many drivers rely on tire thumpers to ensure their tires are inflated, but this antiquated process doesn't provide any actual tire pressure data. A tire that passes this limited inspection can still be dangerously under-inflated, and once drivers are on the road, they have little warning before a tire goes flat. When a refrigerated delivery is on the line, drivers need quick access to the most accurate data.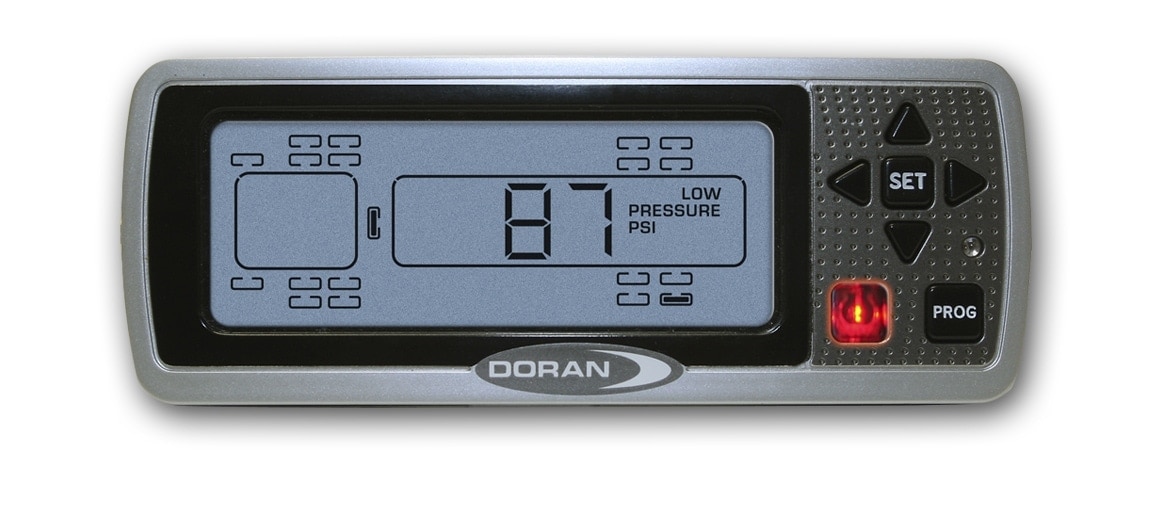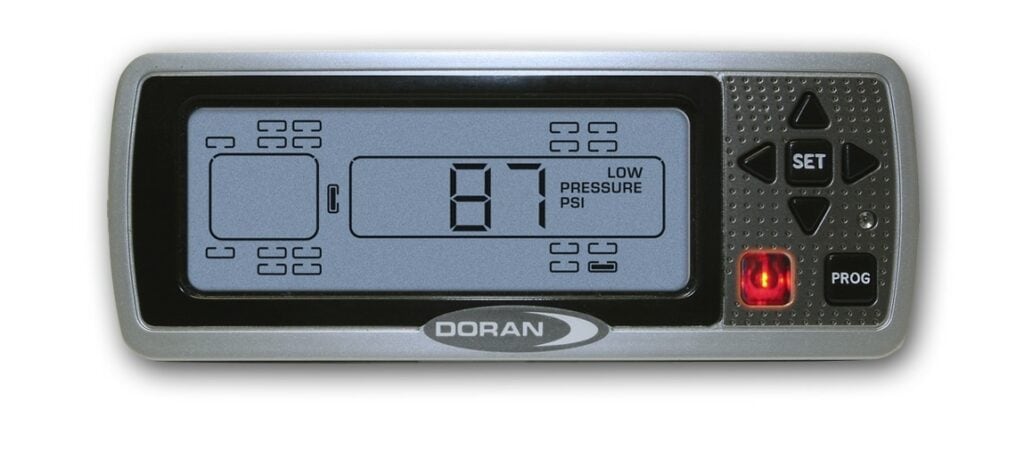 TPMS Gets You There Sooner
Doran 360HDTM TPMS provides accurate tire pressure and temperature data at the press of a button. Wireless sensors installed on each valve stem constantly communicate with an in-cab LCD display. This allows drivers to instantaneously check data for every tire position. And a "Green Means GoodTM" indicator light offers at-a-glance confirmation that all tires are properly inflated.
The savings in time and fuel are immediate. Instead of wasting time thumping or gauging tires, drivers see tire and temperature data as soon as they turn on their trucks. Optimal tire pressure increases fuel economy, saving drivers from frequent fuel stops. And real-time pressure alerts for leaks, low tire pressure, and high temperatures prevent catastrophic tire failures.
All of this allows drivers to get to their destinations faster. They save on fuel for the truck and the refrigeration of the trailer. And because their tire tread wears evenly, they also prevent unnecessary road calls.
Plus, we designed Doran 360HDTM TPMS to withstand weather changes and extremes of the road from coast to coast. Each sensor contains a three-piece seal to maximize valve core depression and minimize potential leaks. And our encapsulation process uses high-grade materials for airtight construction of the sensors. You can send your fleet out on the road with confidence, knowing Doran 360HDTM TPMS can handle any challenge you throw at it.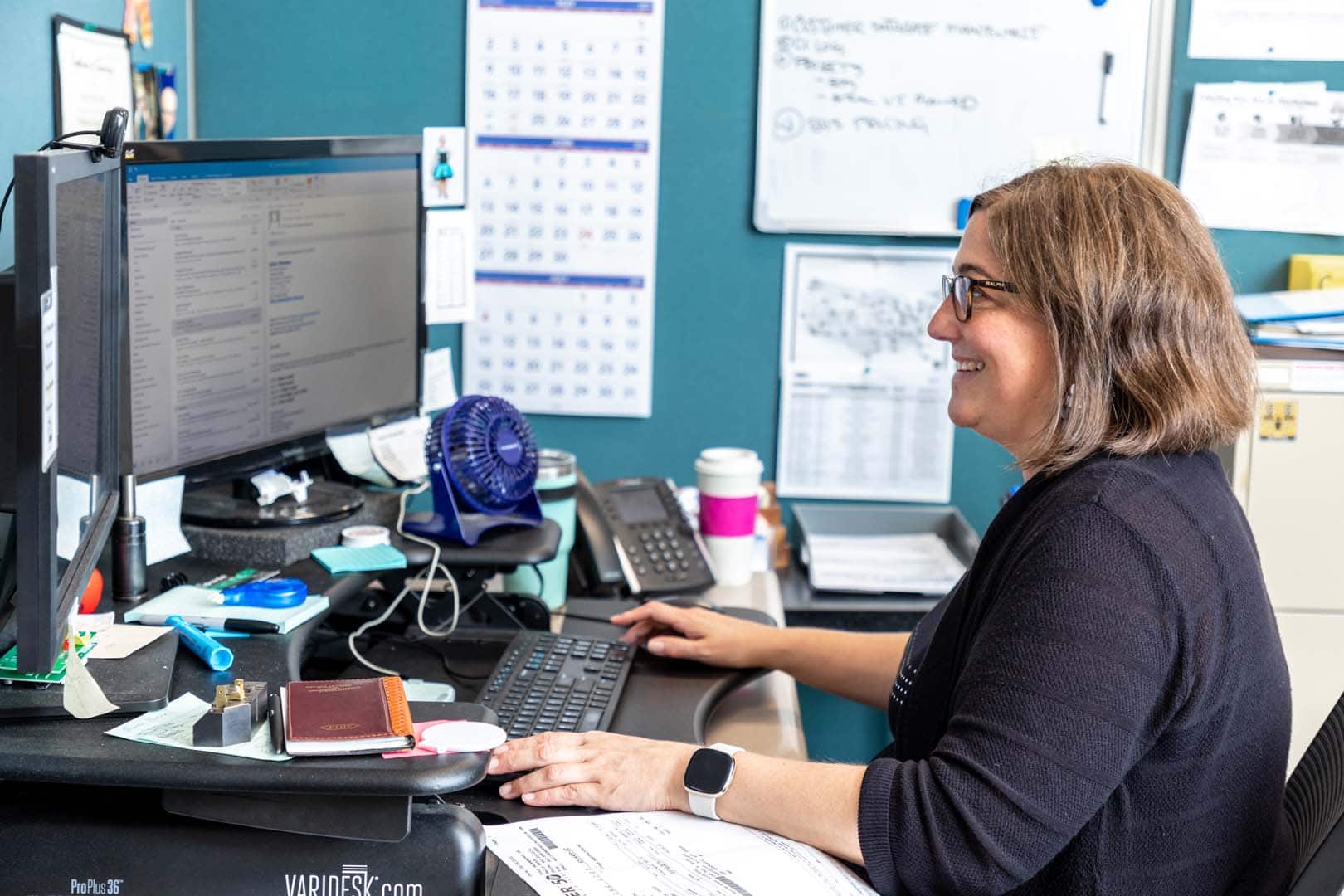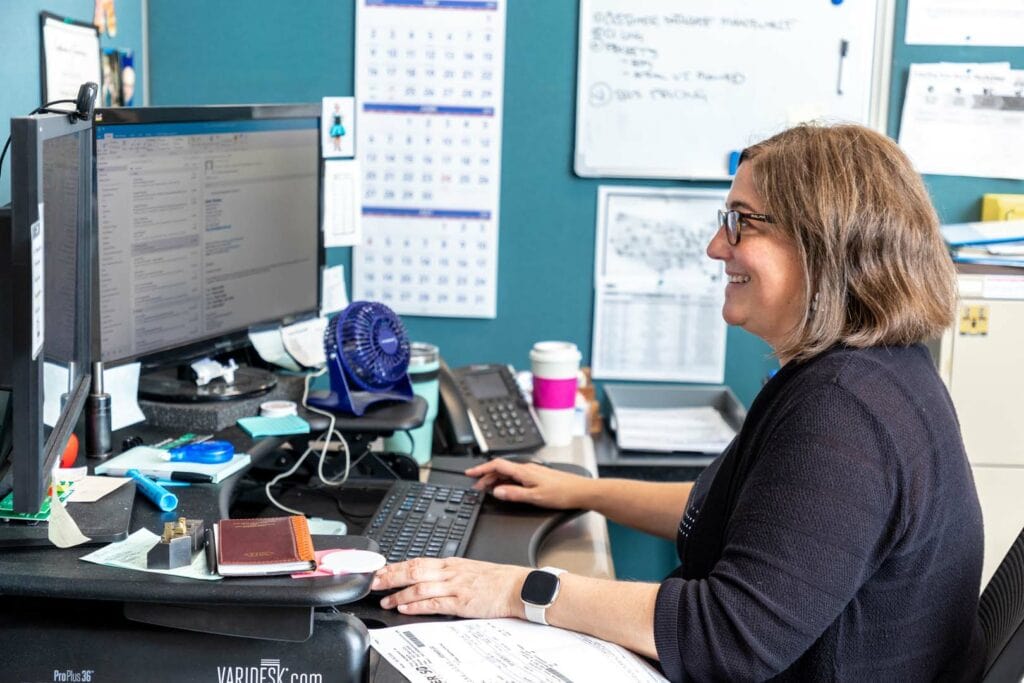 Get Your Free Consultation
Whether you're shipping produce or any other refrigerated goods, a TPMS can increase your efficiency and your bottom line. Connect with us to learn more about Doran 360HDTM TPMS and how it can work for your refrigerated fleet. We'd love to hear from you!