For Immediate Release: March 4, 2022

Doran introduces industry leading tire monitoring integration with Platform Science

Cincinnati, Ohio and San Diego, California – Doran Manufacturing is pleased to announce the integration of tire pressure & temperature data with Platform Science, a leading connected vehicle platform, to help fleets reduce tire related operating expenses, increase equipment uptime and improve vehicle safety. Platform Science's innovative transportation solutions make it easier for fleets to develop, deploy, and manage mobile devices and applications on commercial vehicles.
The Doran TPMS / Platform Science integration features a driver interface mobile application with color coded tire positions by current TPMS status as well as real-time notifications of cautionary & critical low pressure issues, rapid deflation and high temperature conditions. The integration also provides driver managers and fleet maintenance teams with real-time visibility on problem tires through email notifications of active TPMS status changes, daily summary reporting by vehicle/terminal and an interactive portal that includes a dashboard of active TPMS alerts & historical
pressure/temperature data by vehicle.
"We were thrilled with the opportunity to work with the high caliber team at Platform Science," stated Jim Samocki – President at Doran. "We share a fleet customer who valued Doran's tire monitoring systems and helped bring our companies together to create this market leading integration to help them continue to reduce tire related repair and maintenance costs and enhance the safety of their operations."
"This collaboration perfectly captures the transformative potential of our connected platform," said Tom Colby SVP, GM Partner Ecosystem at Platform Science. "Doran's best-in-class development team created this innovative solution to enhance tire monitoring and our technology enables it to be deployed seamlessly in fleets. The result is better truck performance, an improved driver experience, and safer roads, and we are eager to introduce this solution to fleet customers across the country."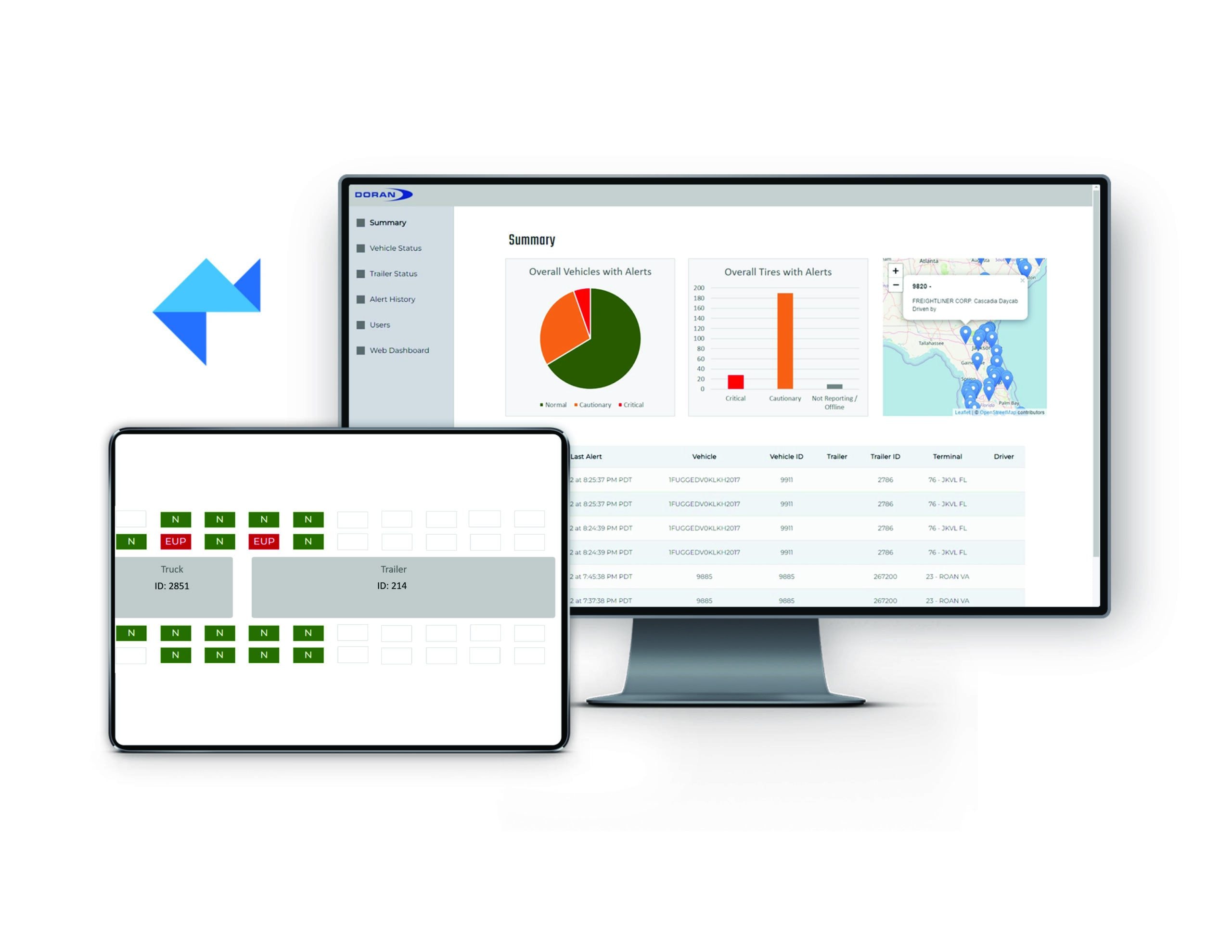 Doran will be displaying and demonstrating tire monitoring systems, integrated with Platform Science at the ATA's Technology & Maintenance Council (TMC) Annual Meeting & Transportation Technology Exhibition in booth 1120 on March 7 – 10 in Orlando, Florida.
About Doran Manufacturing, LLC:
Cincinnati-based Doran Manufacturing is a global leader in safety and maintenance monitoring technology for commercial vehicles. Founded in 1953, Doran is a privately held company with continuous family ownership for more than 50 years. In addition to tire monitoring systems for fleets and off-the-road equipment, Doran supplies safety monitoring technology to the school bus market. For more information about Doran, visit www.doranmfg.com or contact them via email at inforequest@doranmfg.com, or call toll-free (866) 816-7233.
About Platform Science:
Platform Science is transforming transportation technology by future proofing and empowering enterprise fleets with a unified, user-friendly technology platform. Platform Science makes it easy to develop, deploy, and manage mobile devices and applications on commercial vehicles, giving fleets an edge in efficiency, flexibility, visibility and productivity. The customizable platform delivers an unlimited canvas to fleets and developers seeking to innovate and create new solutions as customers' needs, businesses and industries evolve. In 2021, Platform Science was ranked #2 in the FreightTech 25 Awards by industry news leader, FreightWaves. For more information, please visit www.platformscience.com.
For More Information Contact:
Ross Ormsby – Director of Project Management
Phone: 866-816-7233
Email: ormsby_ross@doranmfg.com